Brown shoes are quite versatile and a long-term investment in the men's shoe collection. Brown shoes are trendy among men because no matter the occasion, they will always look great on you with many outfits. Brown shoes go with everything you wear and that is why they are so popular among men.
There are many ways in which you can style your outfits, and it is going to come out looking very elegant. As brown is a neutral color, you will not have trouble pairing it up with multiple outfits.
This post will discuss 11 men's outfits with brown shoes. Check out the ways to style brown dress shoes with different outfits below.
1. With Formal Attire
One way to style brown dress shoes is to wear them with a formal outfit. Wearing it with a matching brown belt and a tie of your choice will elevate your outfit. You can also roll up the sleeves of your formal shirt and wear cropped pants if you want. It is a look that will boost your personality and make you look confident simultaneously.
 2. With a Check Suit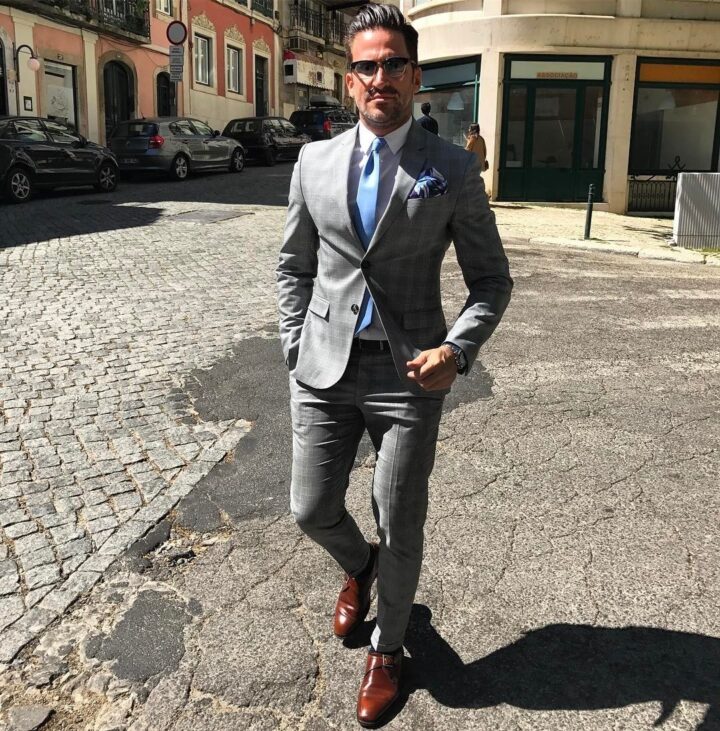 Wear brown loafers with a check print suit, they will look amazing on any occasion. You can pair this outfit with a formal white shirt and a red tie. If the check suit is in gray or any other neutral color, it will bring out the look!
3. With a Leather Jacket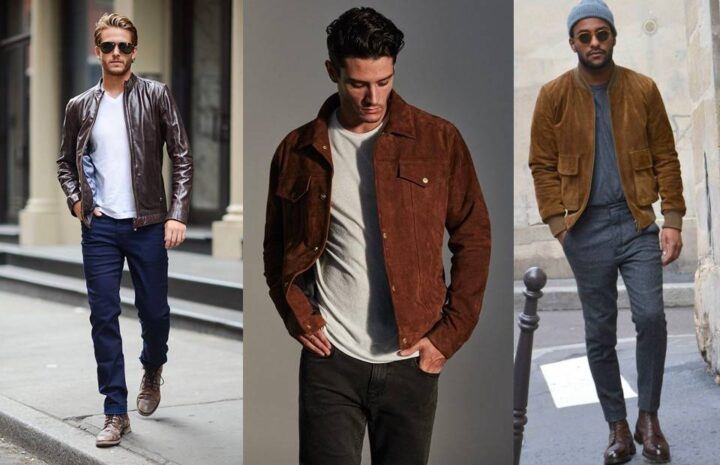 Consider wearing dual-shade brown leather shoes with a brown leather jacket. This look will make you remember the 90s as this is the typical cowboy look. The best thing about pairing brown shoes with a brown leather jacket is that you can wear almost any outfit inside, which will go with the look. Whether you wear something casual or formal inside this attire, it will fit in for any occasion!
 4. With a Navy Blue Suit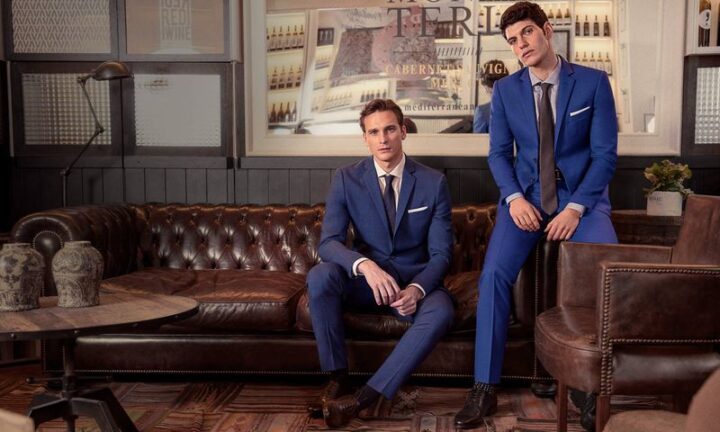 You can pair your formal brown shoes with a navy blue suit and uplift your personality. If you have a reception to attend or are just going to a business meeting, this is the right outfit for you. There are many ways to style this outfit because you can wear this outfit with your blazer open and the button closed. Both looks are unique with brown shoes, and you can wear a simple white shirt under your blazer with this look.
 5. With Casual Clothes
You can wear your dusky brown shoes with almost any formal outfit, but you can also wear them with casual clothing too. If you are heading out, you can wear your dusky brown shoes with a sweatshirt and a pair of jeans. It is a laid-back, casual look that will make you feel comfortable and cool.
 6. Semi-Formal Outfit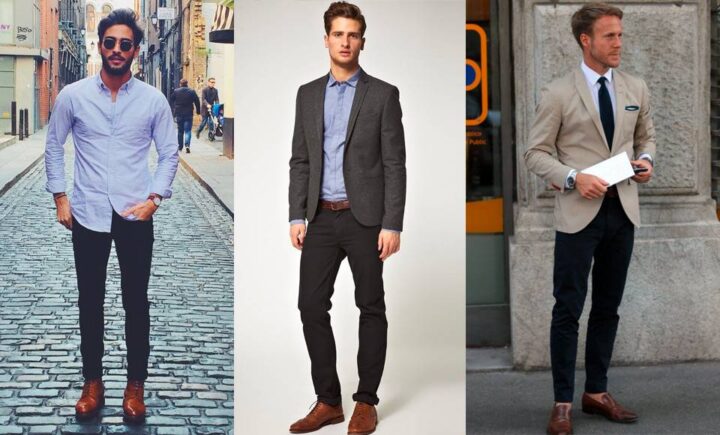 You can wear your unlaced brown shoes while experimenting with your clothing and wearing something semi-formal. For example, if you wear a formal white shirt with a sweatshirt on top of it, you can wear Brown shoes with it. You can wear any brown shoes with this outfit such as laced sneakers. The Brown shoes of your choice can also be formal or casual open loafers.
 7. With a Blazer and T-shirt
If you want to style your classic brown shoes with an outfit, you can go for dark-colored pairing options. Try wearing a distressed black t-shirt with a black blazer. Complete this look by adding a pair of dark denim jeans; you are good to go.
 8. With an All-black Outfit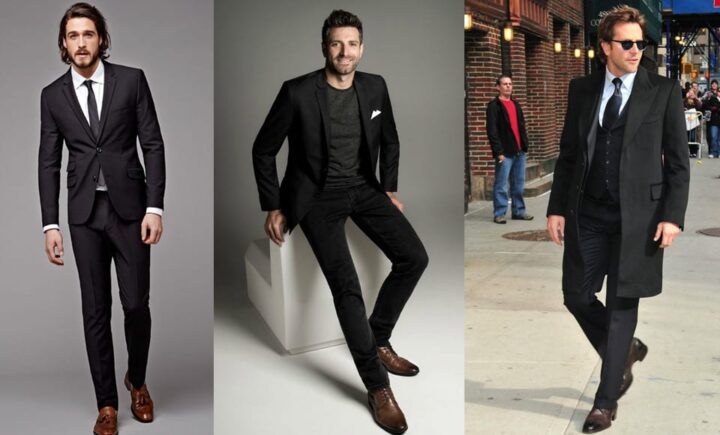 Try wearing your derby brown shoes with a black outfit, which might create a signature style for you. If it goes well with your personality, you can wear this look from time to time. You can create this look by wearing a simple black t-shirt and zipper jeans.
9. With a Puffer Jacket
When you are trying on your outdoor brown boots with a puffer jacket, wear your favorite sweatshirt underneath. It is an excellent look that you can never go wrong with!
10. Neutrals All the Way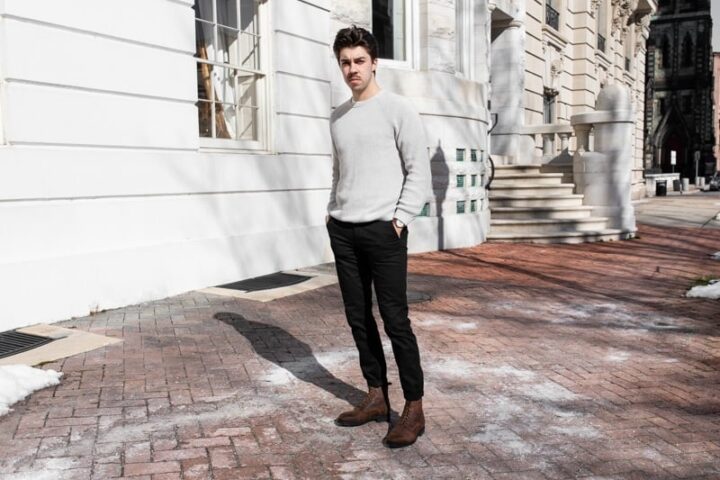 Consider pairing your matte brown shoes with a neutral-shade outfit. You wear a cream slim-fit turtle neck shirt with formal gray dress pants. You can add a brown or gray blazer to add attraction to your style.
11. Simple and classy
Not sure what to wear with your hazel brown boots? You can always keep it lowkey but fashionable. What's better than a simple white shirt with black jeans or sweatpants? Adding a cool jacket on top is a perfect way to keep it simple yet classy.
Tips for Choosing
Choosing the right brown dress shoes for a handsome men's outfit can be tricky, as there are many options to consider. Although there are no set rules for pairing shoe colors with outfits and complexions, certain common sense guidelines can help you create stylish and coordinated looks. Here are a few tips to help you choose the right pair of brown dress shoes:
Match the color of your shoe to the suit or trousers. If you're wearing a navy suit, choose navy shoes; if you're wearing trousers in a lighter shade of brown, pick up on that tone. Avoid adding both lighter and darker shades; try to coordinate them as closely as possible.
Consider your skin tone when picking shades. An autumnal complexion usually looks better in earthy tones like deep walnut or chocolate leather; meanwhile, those with cooler complexions can try lighter shades such as tans or cognacs.
Try different textures and patterns to break up solid color garments — croc-effect leather or tweed fabric with stitching details will add visual interest to an otherwise plain ensemble.
Neutral colors like black or grey will work well with almost any shade of brown for an understated but polished look — just make sure that your belt and other leather accessories match up with your chosen shade of dress shoe!
Final Verdict
Brown shoes can go with most of your outfits, so you must have them in your collection. It is versatile because you can pair it up in so many different ways. There are no limits in getting creative with your style. Experiment with wearing different formal brown dress shoes and decide what looks the best on you!