Having a well-curated outerwear collection saves a man from the worry of efficiently layering his outfits. It's great to have some casual blazers, chore jackets, leather jackets with hoods, and other types of outerwear so that your wardrobe reflects a perfect fusion of style as well as functionality. If we get specific about one type that is a pure fashion statement while being a clear winner at keeping you warm, it would be a hooded jacket.
Jackets with a hood are an excellent piece of clothing as they have the added feature of keeping your head and face shielded from rain and wind. Jackets without a hood require you to carry extra stuff such as beanies, scarves, hats, or caps. Hooded jackets, besides acing functionality, are a sought-after choice for trendy street wear or sporty looks. There are a lot of hooded jacket styles you can choose from the Men's Leather Jacket Collection at LeatherSkinShop, depending upon the material, design, and closure style.
Why Should Every Man Own a Hooded Jacket?
Having a jacket with a hood attached to it gives you an opportunity to create dashing looks for the cold season. They give a relaxing, casual look with a praiseworthy style.
Considered a must-have for fall/winter street fashion, hooded jackets are incredibly versatile. They have room inside them to let you wear warm, thick layers beneath, such as sweaters or cardigans. Apart from all kinds of shirts and t-shirts, jackets with hoods look nice with different styles of jeans, chinos, cargo pants, and sweat pants.
Going for a custom leather jacket with a hood is highly recommended so that you can rock the street looks with your very own style. Also, a custom jacket would give you a much better look as it is a bespoke garment.
The hooded jacket styles for men vary, which we will state below to give you a thorough understanding of these jackets. We will also give a brief account of the general styling ideas of these jackets to make sure you look admirable each time you choose to wear them.
Types of Hooded Leather Jackets
Let's move on to the most popular styles of hooded jackets that you can opt for according to your specific warmth and style needs.
Parka Jacket with a Fur Hood
A Parka jacket is a long, heavy jacket mostly suited for freezing weather. It comes with a fur hood, which adds to its warmth. Made with nylon or polyester, parka jackets are one of the most insulating jackets for men as they are lined with fur. The hood of the parka may be made of real or faux fur. An additional feature of the parka is that its outer shell is water resistant.
They are very easy to style, allowing lots of layering underneath and effortless pairing with a winter-appropriate bottom wear, such as jeans, joggers, and corduroy pants. The versatility makes parkas a great fashion staple, whereas the features make them excellent for keeping the wearer cozy even in frigid locations. You can wear a parka jacket while hiking or on casual outings in the cold weather.
Puffer Jacket
Another type of hooded jacket that has now become a winter wardrobe mainstay is the puffer jacket. It is also known as the quilted jacket. As the name suggests, puffs are created in the jacket with the help of stitching, which makes thick padding that provides insulation.
Shorter in length than the parka, the puffer jacket goes nicely with jeans and track pants. They are suitable for wearing on adventurous activities as they allow greater freedom of movement. The hood will add a barrier to keep your neck and head warm while you enjoy exploring during the freezing weather.
Waterproof Hooded Jacket
Also known as rain jackets, waterproof jackets with a hood are an absolute necessity during rain and snow. The waterproof shell will keep the wearer dry even it is pouring. These jackets are more of a practical staple than fashionable, but you can elevate their style quotient by opting for a jacket in eye-pleasing colors and designs. Choose a color that would reflect your style.
You can look stylish wearing a hooded rain jacket even while sticking to the basics like jeans, sweaters, waterproof pants, or jogger pants. Style your rain jacket outfits with sneakers or water-resistant boots to balance fashion with function.
Leather Jacket with a Hood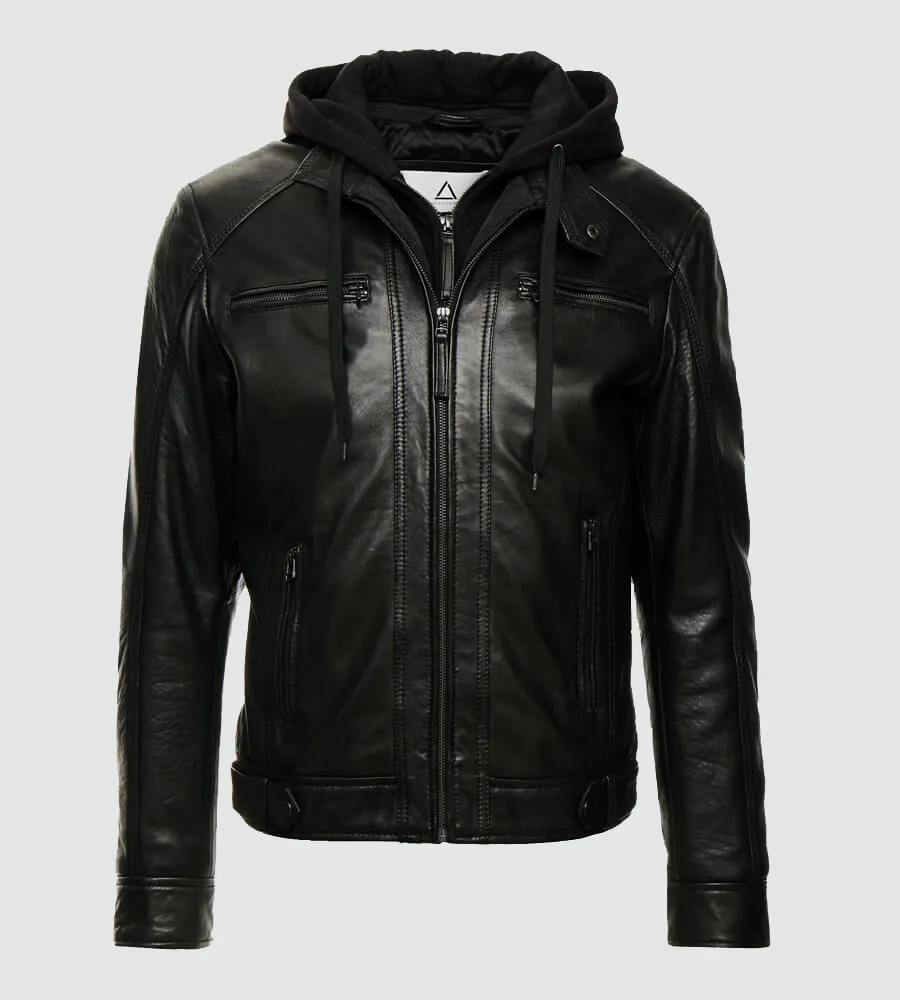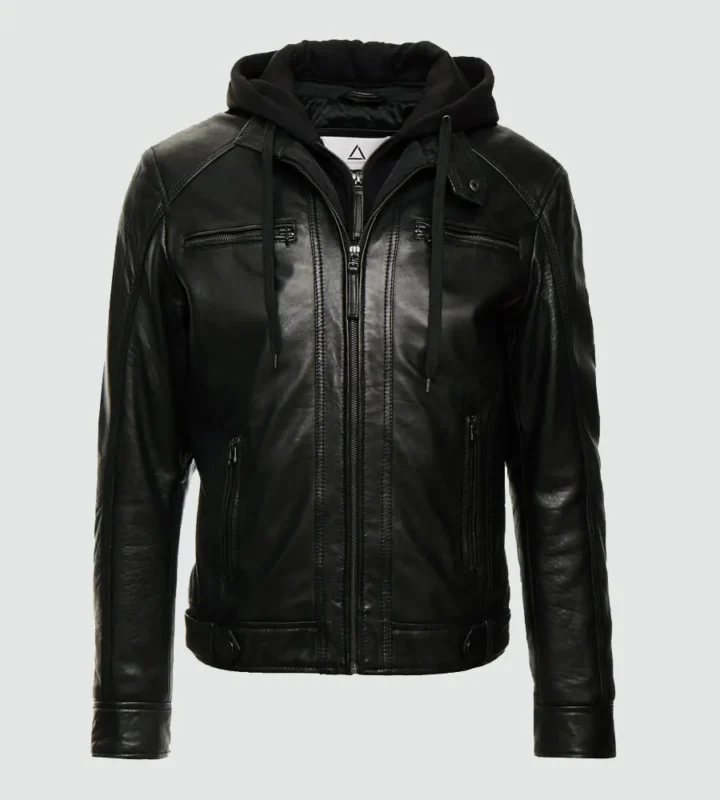 One of the most voguish types of hooded jackets is definitely one made with leather. The lustrous leather gives the perfect street-approved vibes to the jacket, while the hood adds to the rockstar feel. Hooded leather jackets have subcategories. They can have a double zipper, one for the hooded material underneath the leather, and the outer one to zip up the jacket. The hood may be sewn in, made of a different material, or detachable to quickly remove it for convenience.
A leather jacket with a hood lets you ace street style fashion by pairing it with cargo pants, khakis, leather pants, denim, or chinos. You can wear the jacket while traveling, on bike ride adventures, or at night parties.
Hooded Tweed Jacket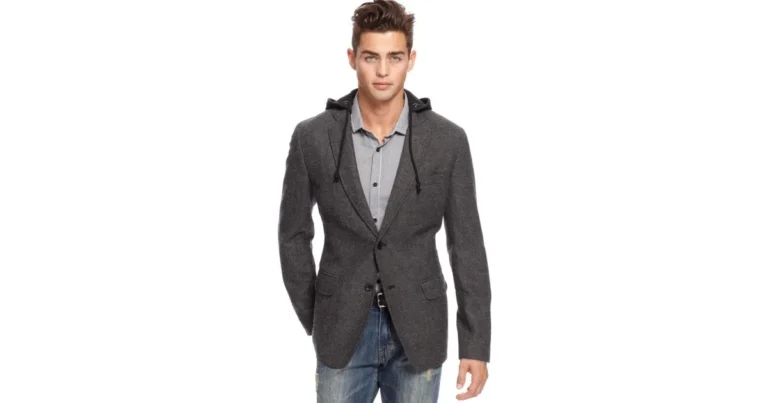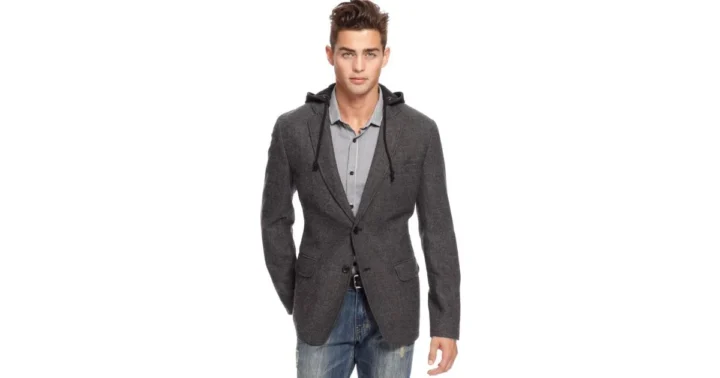 If you want to go for a jacket that has a sophisticated vintage feel to it, nothing can be better than a tweed jacket with a hood. The warm and cozy tweed keeps you toasty in the cold weather, while the hood doubles up the warmth.
A subcategory of the tweed jackets would be one with polyester sleeves and hood, giving a sporty touch to the jacket.
Fleece Hooded Jacket
Lightweight and just enough warm, hooded jackets made with fleece are an excellent option for the transitional weather. As fleece is breathable, you can also wear these jackets during spring, or early morning running sessions on the warmer days.
Hooded Bomber Jacket
Another fashionable style to opt for is the hooded bomber jacket, ruling the streets of fashion capitals around the world. The hooded bomber jackets can be layered over your sweatshirts and jeans, or even give it a spin of sophistication by pairing slim-fit chinos and a casual striped button-down with it.
If you are looking for a showstopping party outfit idea for men, team up a mock neck grey sweater with black slim-fit jeans and a black hooded bomber jacket.
Hooded Vest
The hooded vest jacket is a piece of clothing that will come in handy to instantly give your simplest of outfits a street-approved look. The sleeves of the shirt or the sweater that you are wearing are visible, so make an appealing contrast with your jackets, such as a grey sweater under a white vest, or a blue sweater under a black hooded vest.
The hooded jackets are definitely worth having in your wardrobe, so choose any of the above styles to increase your outfit-building capacity for casual style.