Gone are those days when a tie was considered to be a formal attire look. Today, ties can make or break your look. Be it a casual outing or a formal event, if the tie is worn right, there is no stopping you from looking extremely striking. But, with so many tie patterns and widths available out there, it is quite natural for you to just feel lost. Well, why are we here after all, if we cannot pull you out of the chaos!

How To Choose Width Of A Tie Correctly That Goes Perfectly With Your Personality?
The Ideal Width Of A Tie
When you ask the store man to give you a red tie, he might confuse you by asking, which width will you prefer? And you are like what? I don't know! Umm…We bring you the answer. Be it any occasion, a tie with the width between 2.25 inches to 3.25 inches is going to be just perfect. While this is the ideal width size, there are varying sizes too, which you will have to choose based on your body type and personality! Professional attires and a tie is always a go!
The Common Sizes Of Tie Widths You Can Choose From
2 Inches To 2.75 Inches – This tie width is the least of all and is ideal for the Slim Men. Those with pretty small chests and narrow trunk will fall into this category of slim men! For all you guys, it is always recommended that you do not go beyond the tie width of 2. 75 inches. A wider tie width will make you look broader than you actually are, and that is why it not recommended. For all those casual events, wear you just want to wear a tie to enhance the look, you can opt into a tie of width 2 inches.
75 Inches To 3 Inches – This is the average width of a tie, and it best suited for men with average body type. Men with an athletic build with average shoulder sizes are considered into this category. You are the men, who can actually go around experimenting with all tie widths because based on the occasion; all widths will suit your body. For those board meeting like events, wear a broader tie that could range from 2.75 inches to about 3 inches. For those party days, where you wish to get a semi-formal look, you can go for a narrow width tie.
3 Inches To 3.5 Inches – 3.5 inches is the maximum width of a tie and this is recommended for broad Men. If you have broad shoulders and your body type is more than just average, then you fall into this category. To be able to suit your body type, it is always recommended that you wear broader width ties. By broad ties, we mean anything above 2.5 inches in width. While you can go as far as wearing a tie of width 3.5 inches too, it may not look very good. We would recommend that you restrict the maximum width to about 3. 25 inches.

Quick Guide To Select The Right Tie For You
While you choose your tie, here are some quick checks that you can keep in mind to be able to select the best tie type for yourself…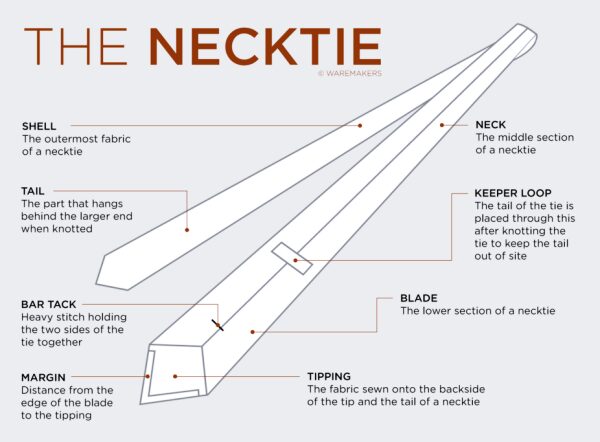 All ties are not available in all widths. So, be careful about this part. The texture and design that you want may not be available in the width that will suit you. So, be flexible with either of the two.
Do not ignore the lapel size when you buy the tie. This is because tie and lapel go hand in hand. The best way to match them will be to have the same sizes for both.
Your tie has to represent your style and your personality. You would not want to opt for a tie that will make your body look different. It also has to match your complexion. Make sure you know about these little fashion facts well before you set yourself out to work.

Lastly, ensure that you are choosing a tie that goes well with your outfit. You obviously cannot wear a red tie with a blue shirt, because they would not look good together. So, when you are choosing your tie, ensure you know, for which outfit you will pair that up with!