Corduroy is one of the most easily detectable fabrics of all. One glance at this fabric and will know that you have corduroy in front of you. Corduroy is actually a cold weather fabric and often believed to be a substitute of the velvet. This fabric has its own merits that you might be unaware of. So today let's talk about it and learn How to Wear Corduroy Pants Like a Trained Gentleman. Learn more about some gentlemanly things that women love in men.
Different fabrics have their own pièce de résistance that you must know about. Corduroy is one such fabric that will win your heart with its softness and easy maintenance. Mostly the corduroy is used in the manufacture of pants or casual trousers but you could also find this fabric in jackets and shirts as well.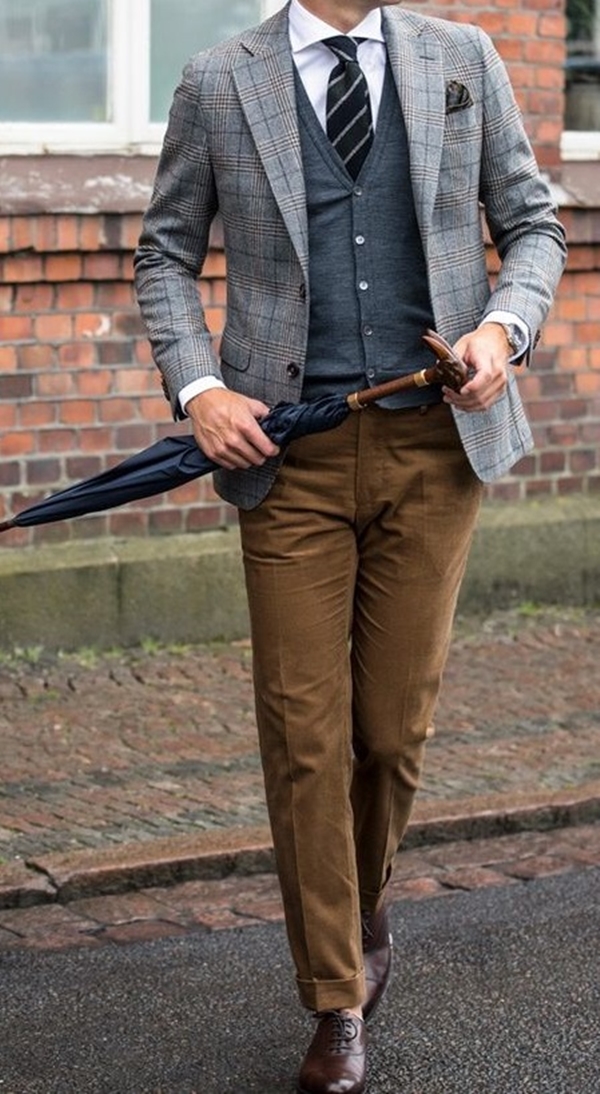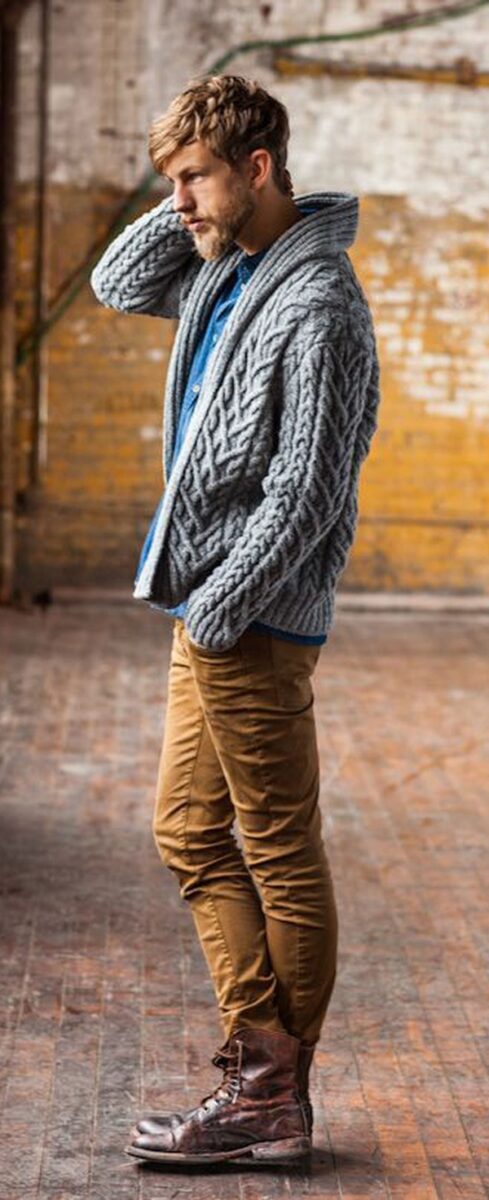 How to Wear Corduroy Pants Like a Trained Gentleman
What exactly is Corduroy?
Derived from the fustian fabric, the corduroy is actually a ridged form of velvet. The fabric can be easily identified due to its unique pattern of cord or also known as the wale. When you look at the fabric, it looks like multiple cords have stitched together in parallel lines and hence giving the fabric its own rare identity. The fabric is soft and sturdy and is mostly a blend of wool and cotton. Thus the corduroy is considered as a very durable fabric. The width and thickness of the wale vary and the lines of the fabric can be seen clearly. The fabric has that touch of vintage to it. Look here for such comfy casual outfits.



Wear anywhere
The corduroy pants look like jeans but their soft nature makes them a lot more comfy to wear than the denim. Although the corduroy pants are mostly kept for casual occasions, the different variations in the width of the wales can decide if the pants can be worn for semi-formal events or not. The wale is actually the number of ridges per inch on the fabric.
The width of the wales is also referred to as the size of the wale and can be determined from the wale number. The smaller the value of the wale number, the larger is the thickness of the width of the wale. For casual attire, it is fine for the wale width to be large but not for the formal ones. So for semi-formal affairs, you can opt for the trousers such as pincord or needlecord corduroy for this type of corduroy have fine lines of wales. These are some of the all-time favourite formal outfits.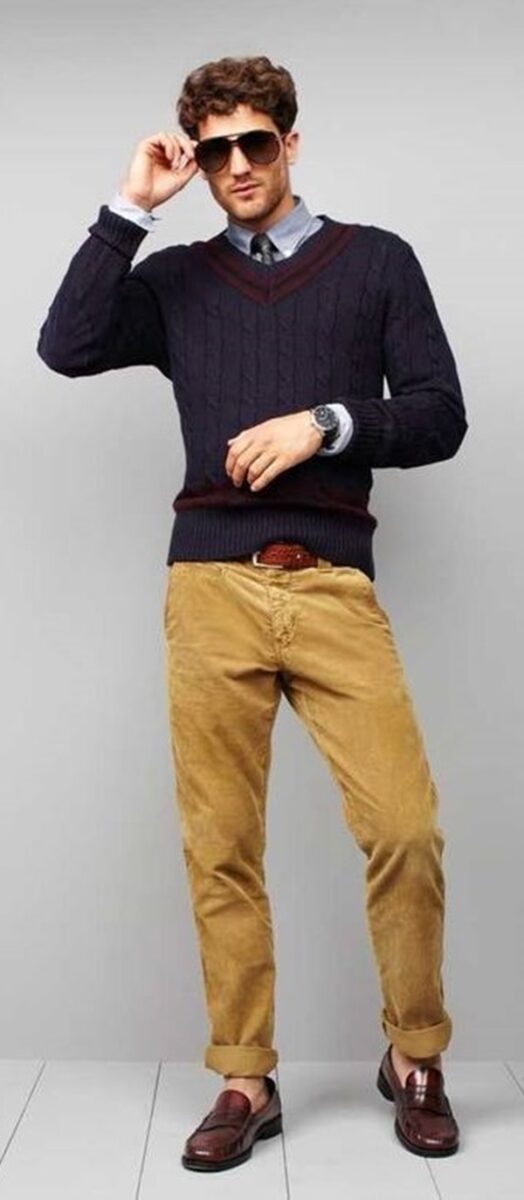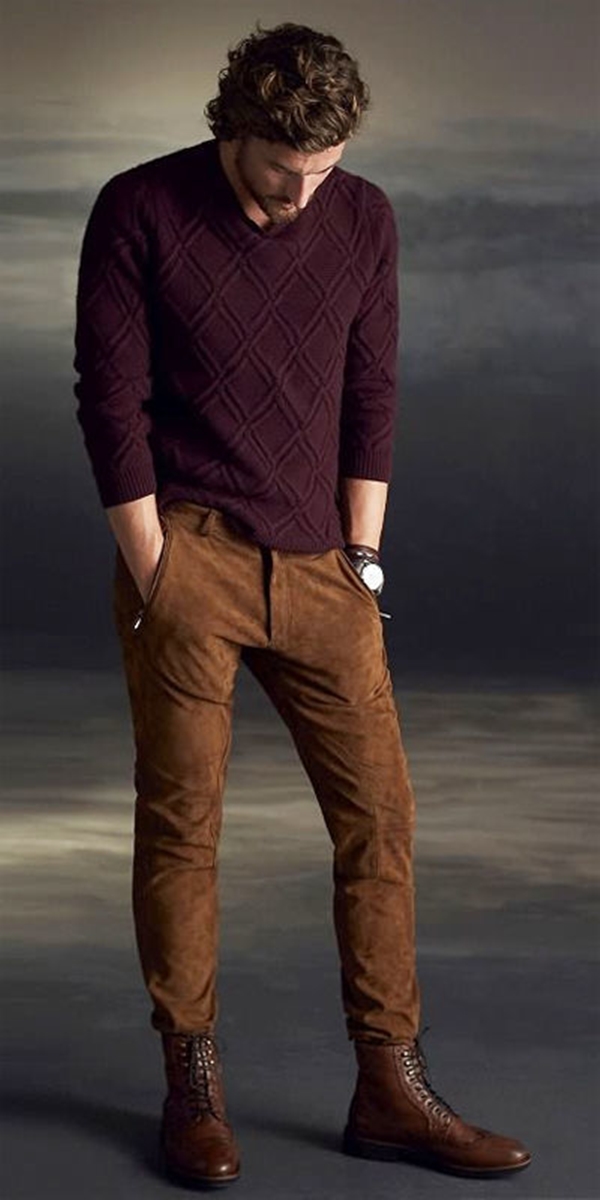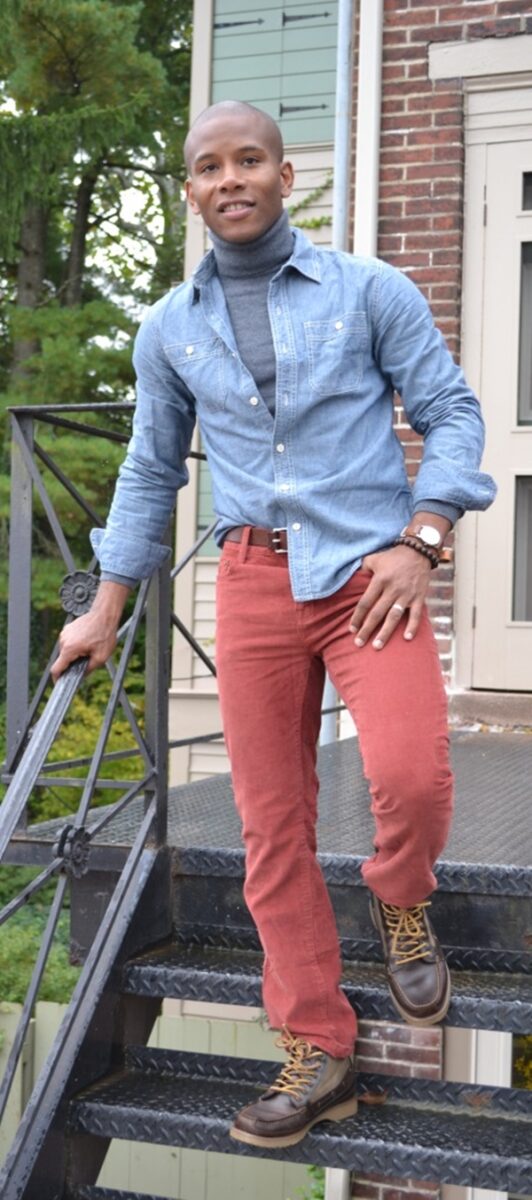 Colours that will suit
The colours in the outfits play quite an important role while building a man's persona. And since we are talking about corduroy pants here, colours need to be considered as the major factor. For formal outfits, choose colours such as black, khaki, brown or navy in pincord corduroy. But for casual outfits you have quite a range of colours to pick from. Mostly bold colour trousers like red, green, blue, etc. are some of the most preferred choices of colours among young men. If you don't have any corduroy pants go buy a few pants to get a breather from the regular trousers and jeans. Their comfort is totally worth it. You can add the corduroy blazer to your wardrobe as well. See here for more blazer outfits.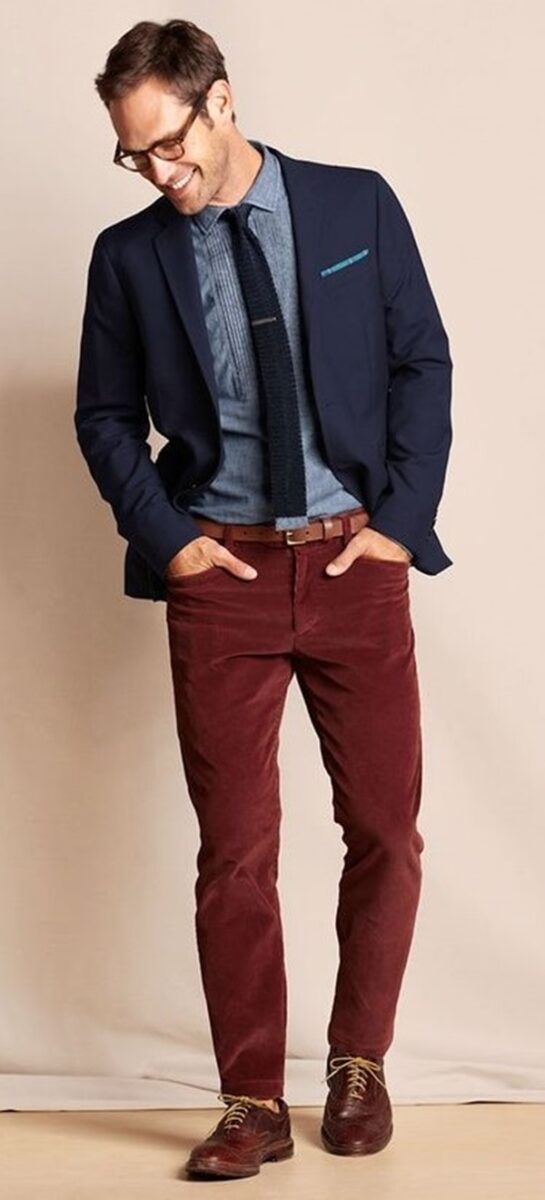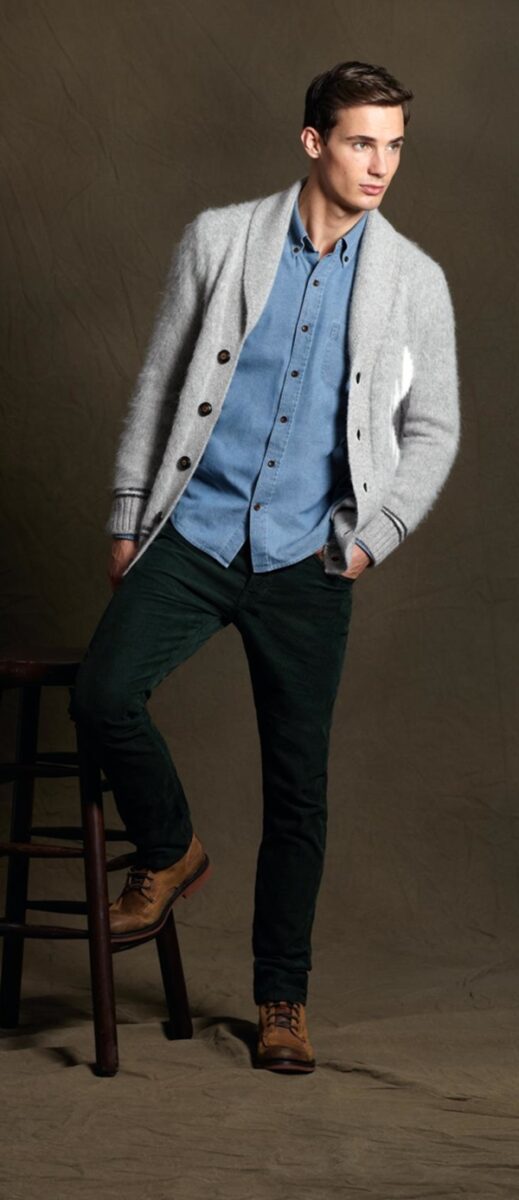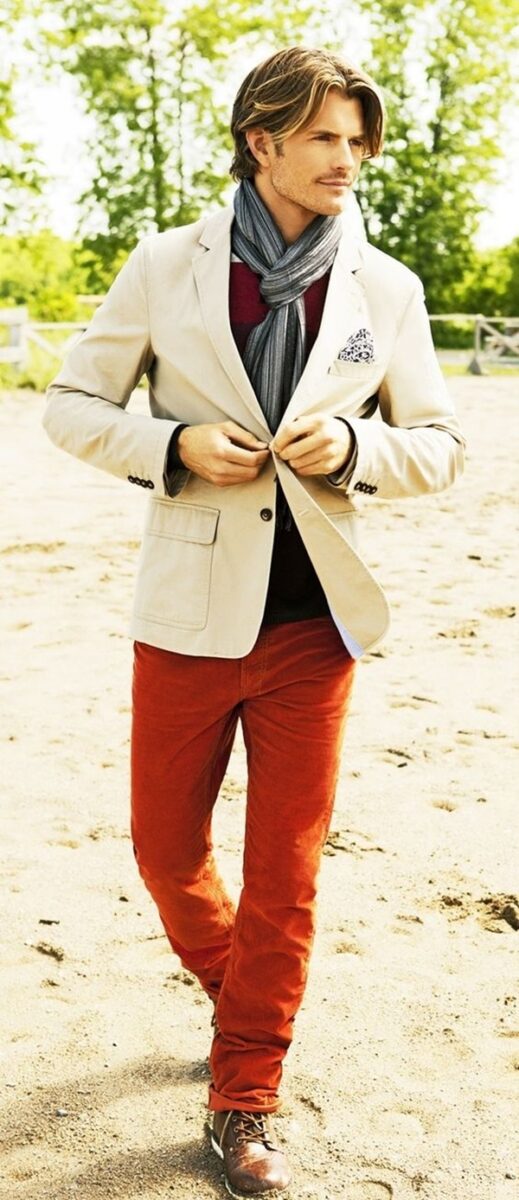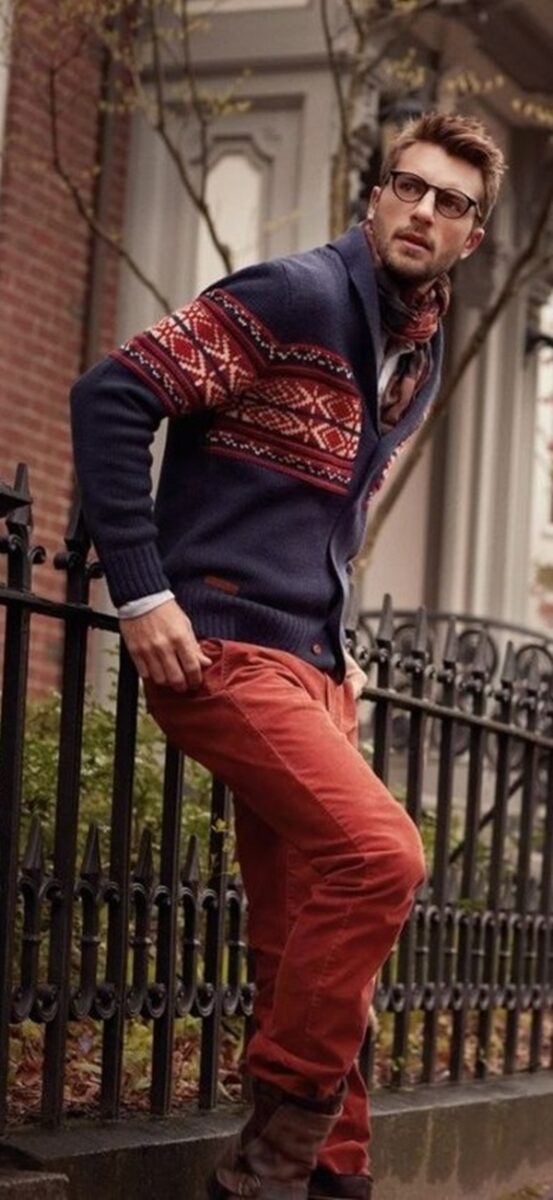 What to pair with Corduroy Pants?
Now that might seem a very tough question but the answer is quite simple here. Depending upon the type of clothing you are going for, you can decide what to pair with these trousers. For instance, if you are out on a casual day, pick any t-shirts of yours and pair with these pants and cool pair of sneakers. It will make a nice casual outfit to walk on the streets. Similarly, you can pair the trousers with a button-down shirt and some cool oxfords in dark shades of brown for the office attire. There are other different types of shoes that you could try with different outfits.
You can take a step further and even wear the corduroy pants with a matching jacket as a suit. That will make a very nice formal outfit with a pinch of elegance and class with its velvety appearance. For a touch more of vintage beauty, try pairing a shirt with brown corduroy pants and suspenders. Suspenders will add that perfect flair to the outfit and make it more worth giving a glance.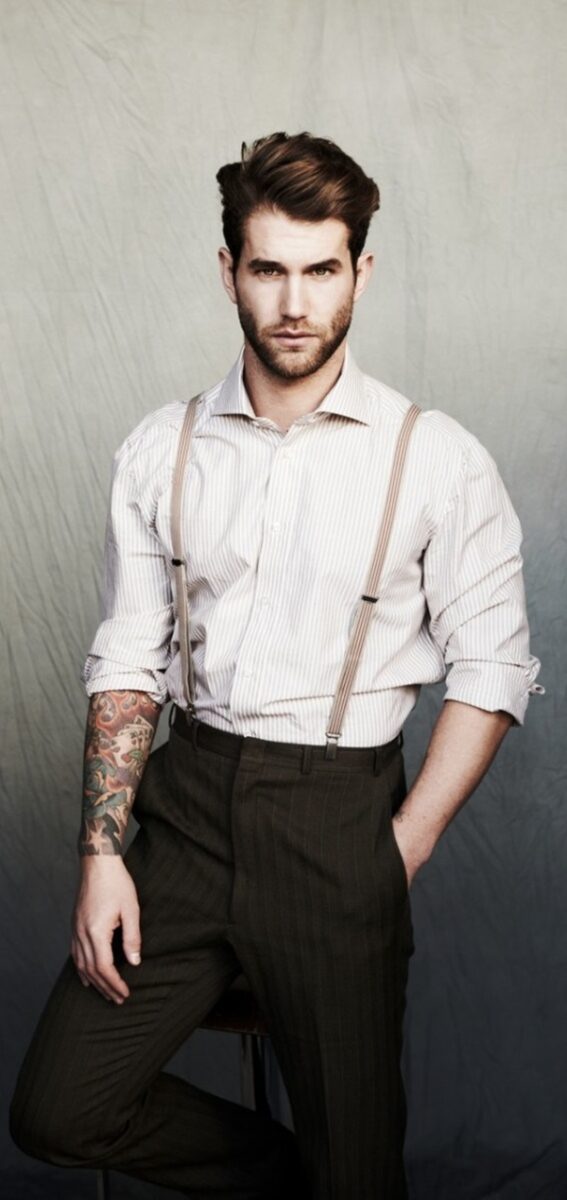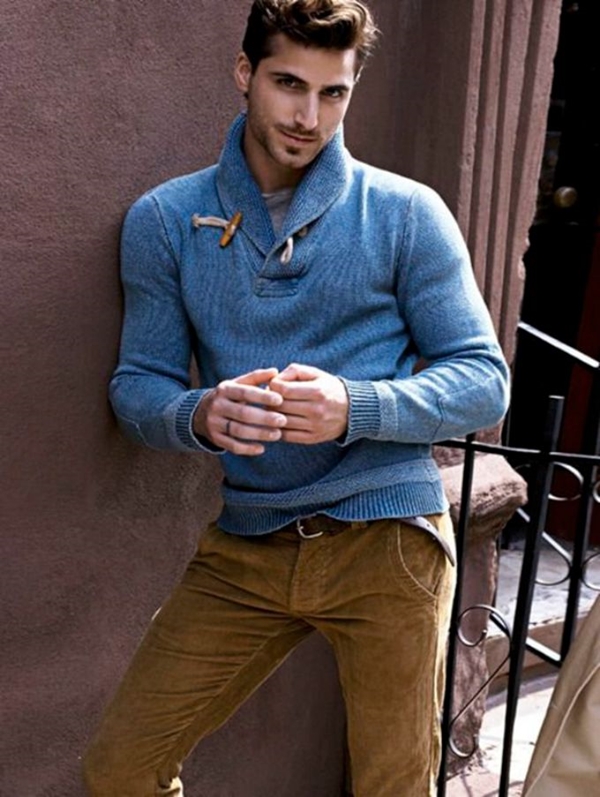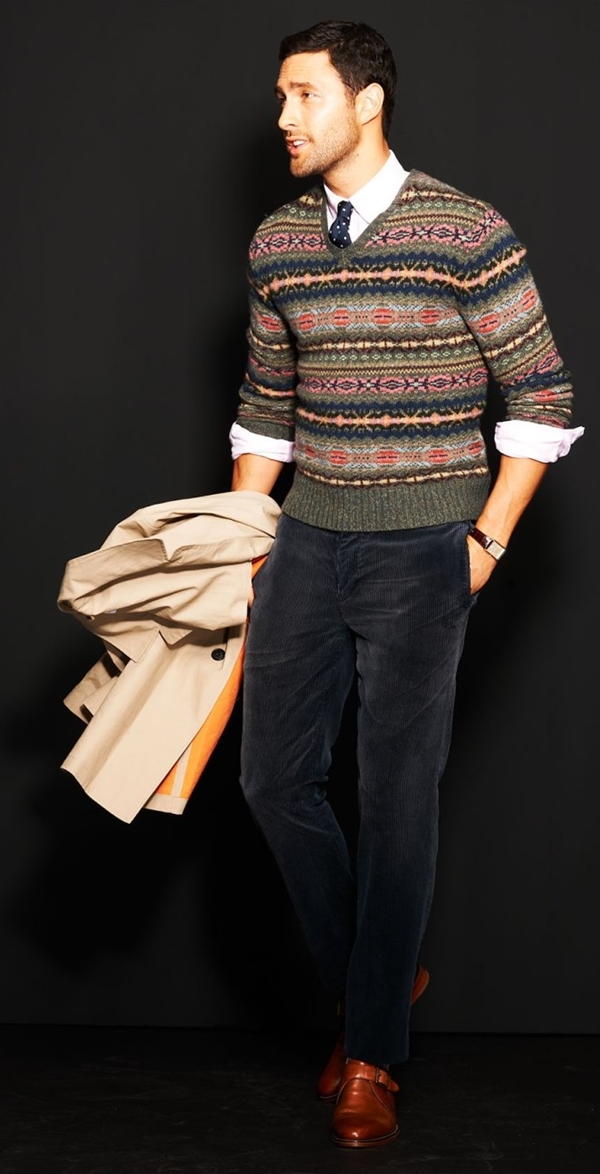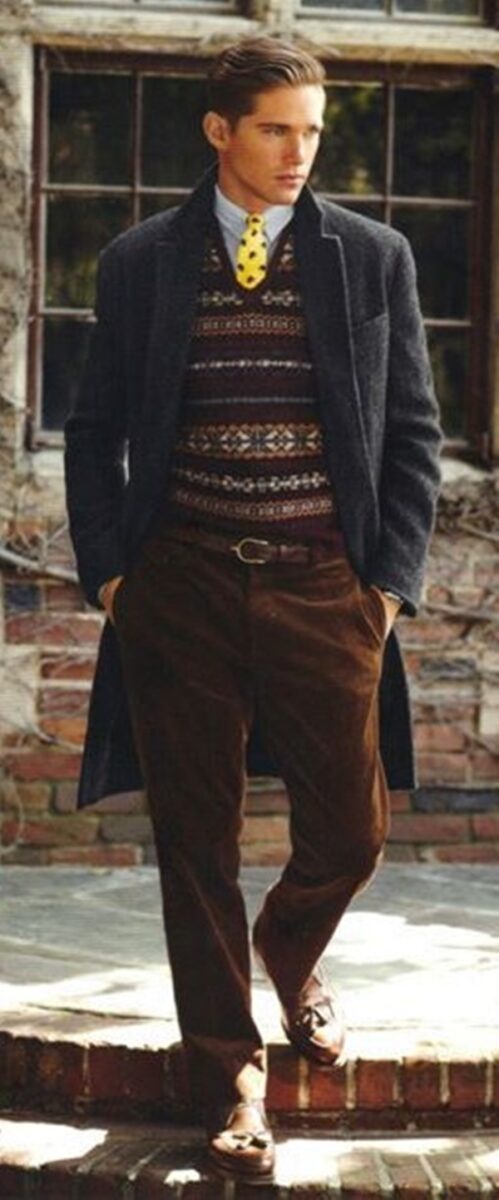 The best thing about the corduroy is that they are soft, keep you warm and dry off easily. And they are not restricted to just only the casual outfits. What else one man would want when he is out looking for the perfect pants that not only fit well but feel good as well? Go grab few corduroy pants for you now.