Are you prepared to grab attention and command attention? If so, it's time to embrace the power of pink sequined dresses. From classic Hollywood glamour to modern-day fashionistas, these shimmering ensembles have been stealing hearts for decades.
Whether you're attending a glitzy event or simply want to add some sparkle to your everyday life, we've got you covered. In this ultimate guide, we'll delve into the history of pink sequined dresses, explore how to wear them in 2023, showcase the best options for every budget, and reveal expert tips on styling them for any occasion.
Pink Sequined Dresses ─ A Fashion History
The origins of pink sequined dresses can be traced back to the glitz and glamour of Hollywood in the 1920s. This was an era defined by flapper style and extravagant parties, where women embraced boldness and embraced all things shiny. It's no wonder that pink sequins became synonymous with luxury and sophistication during this time.
As fashion progressed into the mid-20th century, pink sequined dresses remained popular but took on new forms. They became more refined and elegant, adorning cocktail dresses worn by starlets on the red carpet.
Pink sequins added a touch of femininity to these glamorous ensembles, making them stand out in a sea of classic black gowns. Today, wearing a pink sequined dress is not just reserved for formal events or special occasions. Fashion-forward individuals are finding creative ways to incorporate these dazzling garments into their everyday wardrobes.
How To Wear Pink Sequined Dresses In 2023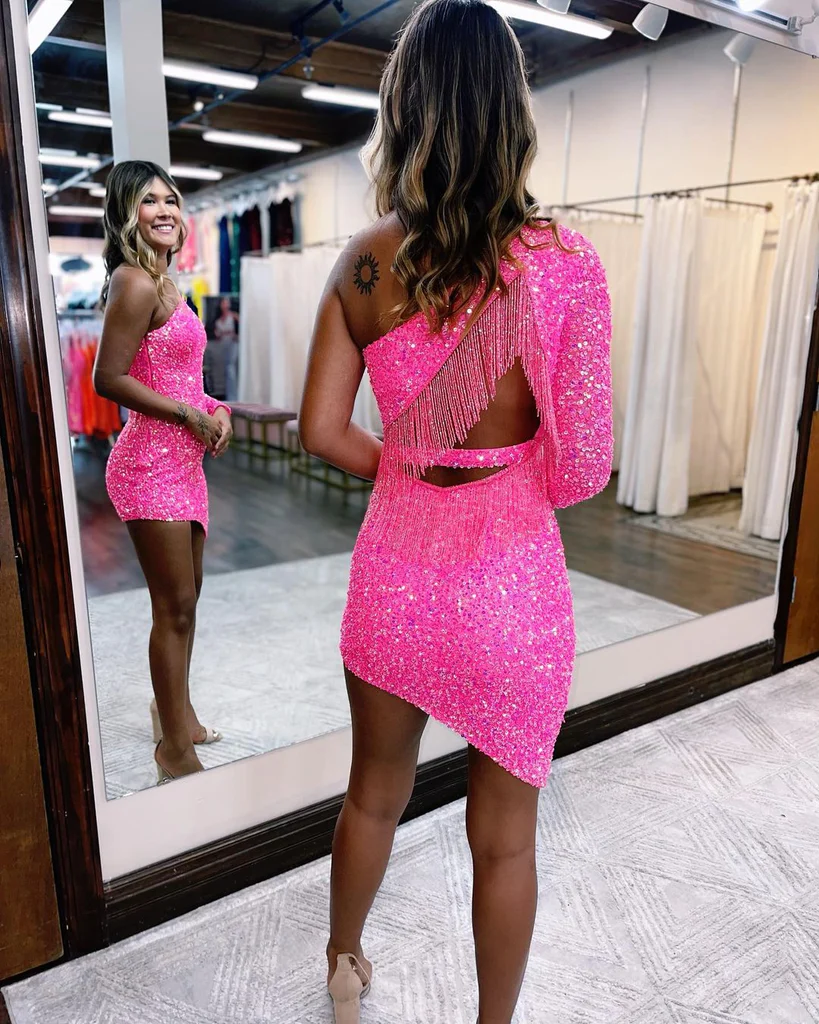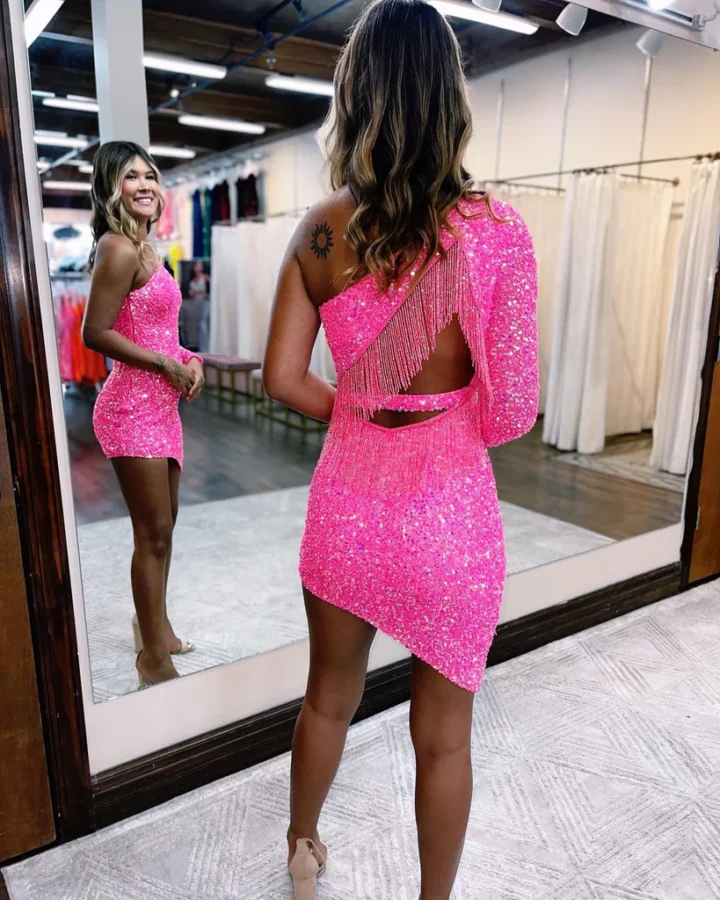 Pink sequined dresses have long been a staple in the world of fashion, and 2023 is no exception. This year, we're seeing an exciting array of ways to wear these glamorous garments that are sure to make you stand out from the crowd.
Pair them with edgy accessories ─ One trendy option for styling pink sequined dresses is to pair them with edgy accessories. Think leather jackets, chunky boots, or even a statement belt. This juxtaposition of feminine sparkle with tough accents creates a bold and unique look that is perfect for a night out on the town.
Opt for sleek and minimalistic accessories ─ For a more sophisticated approach, consider opting for sleek and minimalistic accessories. A simple clutch bag or delicate jewelry can elevate your pink sequined dress into chic territory. Pair it with understated heels or sandals for an effortlessly elegant ensemble that works well for cocktail parties or formal events.
Experiment with different textures and patterns ─ If you want to embrace the playful side of pink sequined dresses, try experimenting with different textures and patterns. Mix in some faux fur details or layer your dress over a sheer blouse for added dimension and interest. Don't be afraid to play with color either – pairing your dress with vibrant hues like electric blue or sunny yellow can create an eye-catching combination.
Opt for strappy stilettos ─ When it comes to footwear choices, there are endless possibilities when wearing pink sequined dresses. For a glamorous touch, opt for strappy stilettos or embellished pumps. If comfort is key, go for metallic sneakers or block-heeled ankle boots – they'll add an unexpected twist while keeping you comfortable all day long.
The Best Pink Sequined Dresses For Every Budget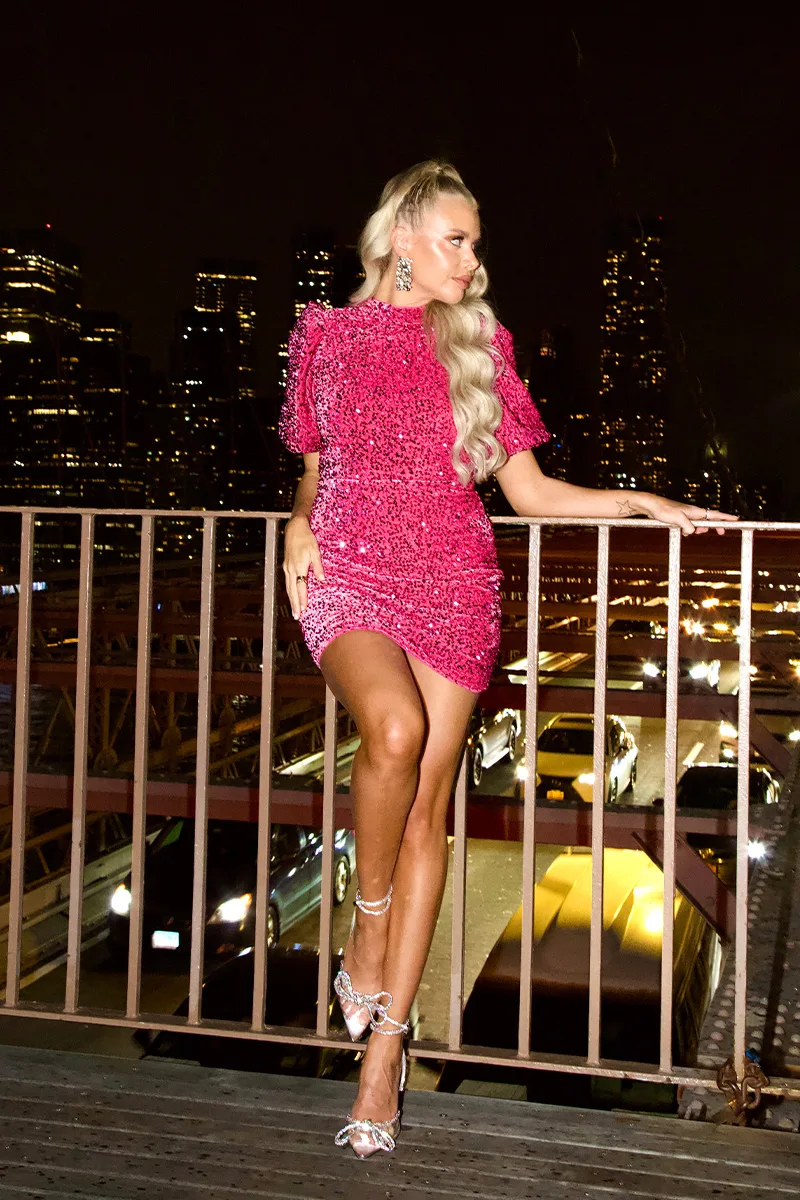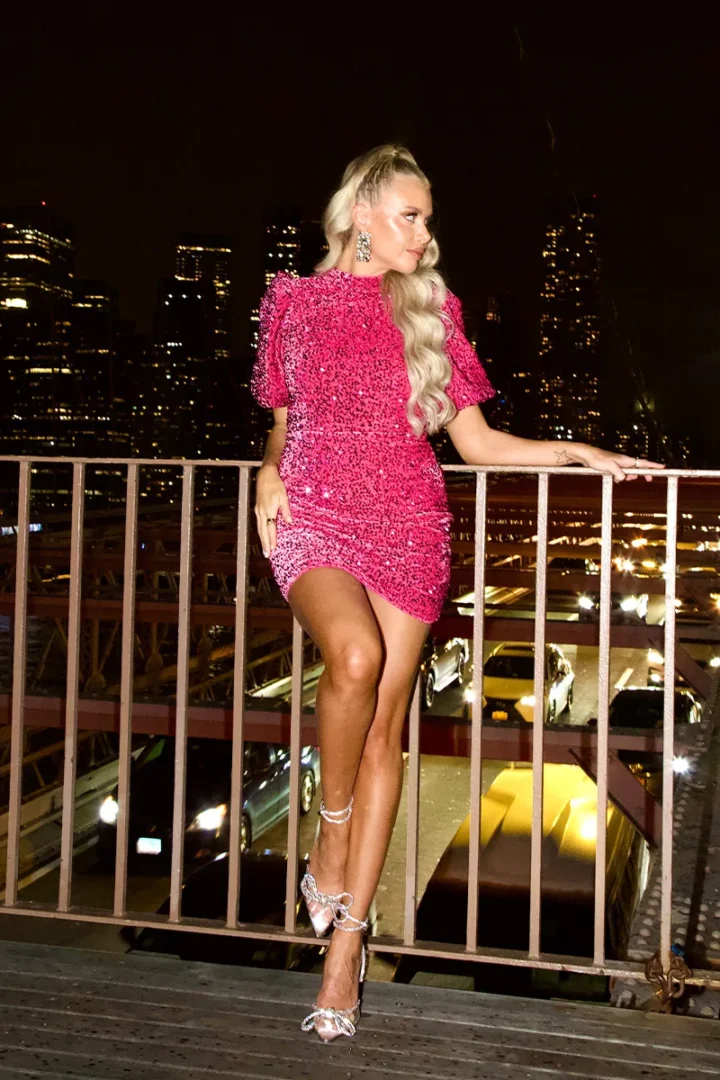 When it comes to pink sequin dresses, there are options available for every budget. From high-end designer pieces to affordable finds, you can find the perfect dress that will make you shine and sparkle without breaking the bank.
For a luxurious option ─ If you're looking for a luxurious option, consider investing in a designer pink sequin dress. These dresses are typically made with high-quality materials and exquisite craftsmanship, ensuring that you'll turn heads wherever you go.
For mid-range budget ─ For those on a mid-range budget, there are plenty of options available from both established brands and emerging designers. Some brands often offer trendy styles at more affordable price points without compromising on quality or style.
For tighter budget ─ If you're shopping on a tighter budget but still want to rock a fabulous pink sequined dress, don't worry. There are also many solutions that are affordable.
How To Style Pink Sequined Dresses For Any Occasion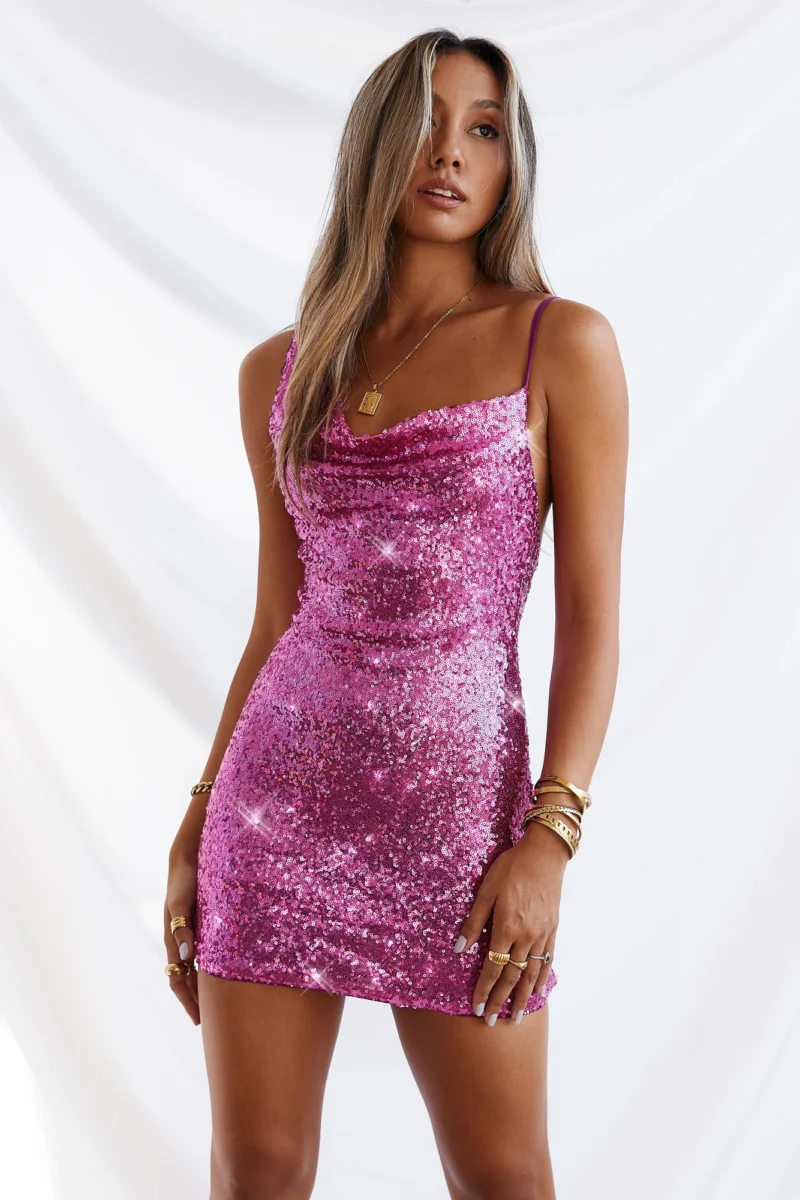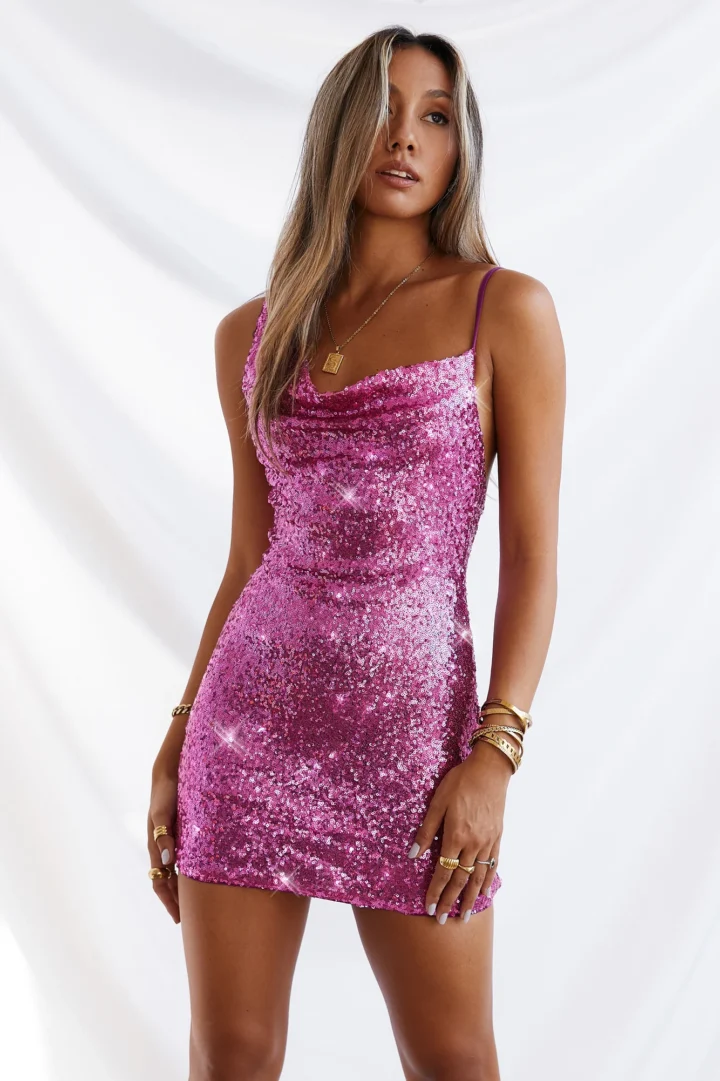 When it comes to styling pink sequined dresses, the options are endless. Whether you're attending a glamorous evening event or looking to add some sparkle to your everyday wardrobe, there are numerous ways to rock this feminine and eye-catching piece.
For a formal occasion ─ For a formal occasion like a wedding or black-tie event, pair your pink sequined dress with elegant accessories. Opt for metallic heels and delicate jewelry to complement the shimmering fabric. A sleek updo or soft waves will complete the sophisticated look.
For a night on the town ─ If you're heading out for a night on the town, embrace the fun and playful nature of pink sequins. Add some edge by pairing your dress with black leather ankle boots and a leather jacket. Keep accessories minimal but bold – think statement earrings or a chunky bracelet.
For daytime wear ─ To make your pink sequined dress more casual for daytime wear, layer it over a plain white t-shirt or swap out heels for sneakers. Throw on a denim jacket or oversized cardigan and accessorize with sunglasses and a crossbody bag for an effortlessly chic ensemble.
Conclusion
In 2023, there are endless ways to wear pink sequined dresses that suit every style and occasion. From pairing them with edgy leather jackets for a cool street-style look to accessorizing with statement jewelry for an elegant evening ensemble, the possibilities are truly limitless.
So embrace your inner diva and let your style sparkle all day long! With these tips and ideas on how to wear and style pink sequined dresses in unique ways this year, you're bound to make an unforgettable fashion statement wherever you go.