Are you planning a trip in the near future and looking for the perfect travel bag? Look no further than a leather travel bag! Not only is it stylish and durable, but it also makes packing easier. However, with so many options available, how do you pick the perfect leather travel bag for your next adventure? Here are some factors to consider:
Size Matters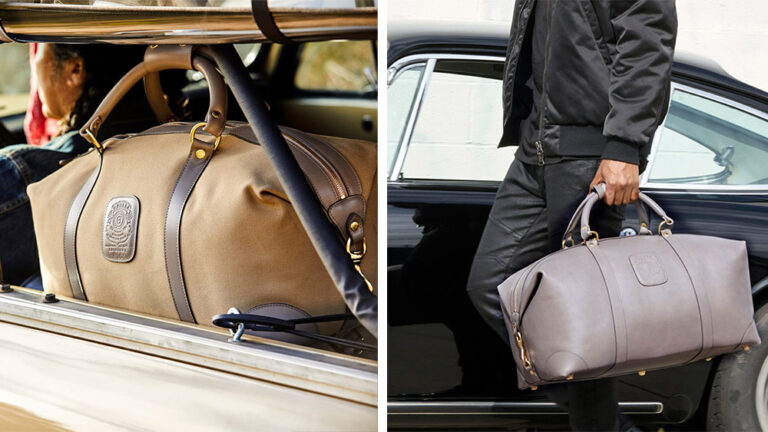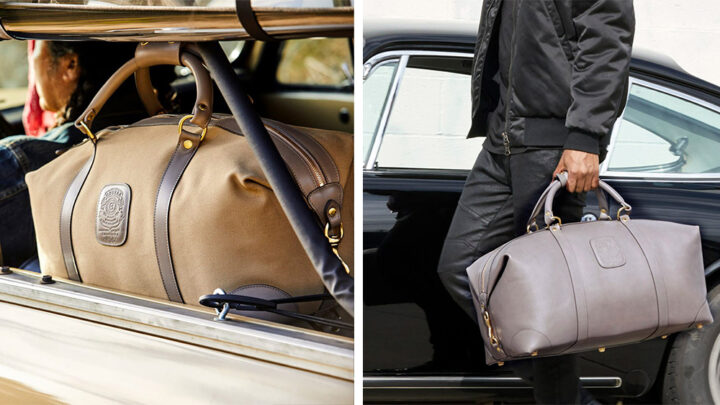 One of the most important factors to consider when choosing a leather travel bag is size. You need a bag that is big enough to hold all of your belongings without being overly bulky. Consider the length of your trip and the items you need to bring to determine the appropriate size of the bag. Keep in mind that airline carry-on restrictions limit the size of your bag, so make sure to check your airline's size requirements before making a purchase.
In addition to size, look for bags that are lightweight and have plenty of compartments and pockets so you can easily organize your items. This will help you access what you need quickly and efficiently without having to dig through the entire bag.
Also, make sure the straps are adjustable so that you can customize the fit of the bag to your body type. This will make carrying the bag more comfortable and prevent any potential discomfort during your travels.
Quality Counts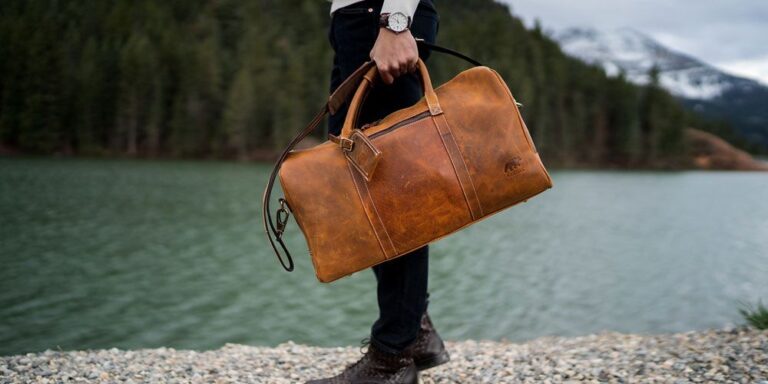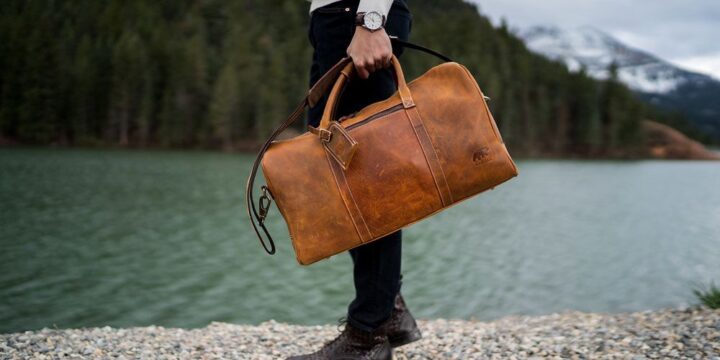 The quality of a leather travel bag should never be overlooked when shopping. Low-quality leather will crack and fade quickly, so it's essential to choose one made with genuine leather and high-grade hardware. Make sure to check reviews online or ask friends who have bought similar bags in order to find out what brands are known for their quality materials.
When looking at leather bags, it's important to note that there are different types of leather, each with its own characteristics. Full-grain leather is the highest quality and most durable type of leather, while top-grain leather is slightly less durable but still a good option. Genuine leather is the lowest quality and is prone to cracking and fading over time.
Don't forget to look at the stitching when examining the quality of a leather bag. Higher-end bags will usually have reinforced stitching around the straps and seams to ensure durability during long trips.
Style Comes First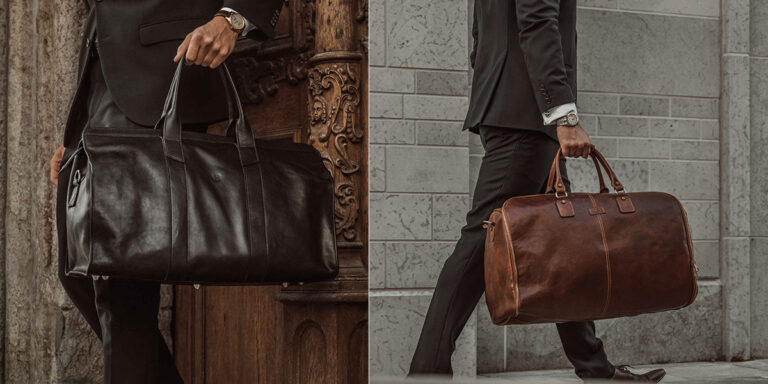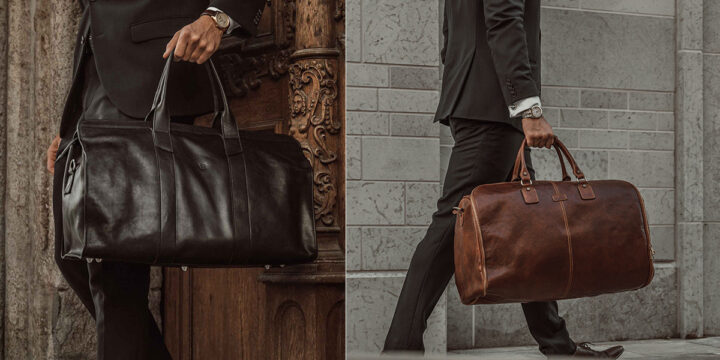 While size and quality are essential factors, the style of the leather travel bag is equally important. After all, what's the point of having a luxurious piece of luggage if no one can see it? Aesthetics aside, an attractive design also helps protect your belongings from dirt and moisture throughout your journey.
Consider purchasing multiple styles of leather bags so that you have options depending on where you go. For instance, you may need an overnight bag for a weekend trip or a larger bag for longer trips. Having a variety of bags can also help you pack more efficiently and provide different options for different types of trips.
Additional Features
While size, quality, and style are the most important factors to consider when choosing a leather travel bag, there are also some additional features to keep in mind. For example, consider the type of closure the bag has. A zipper closure may provide more security, but a buckle or snap closure can be easier to access.
It's also important to consider the type of handle or strap the bag has. A detachable shoulder strap can provide additional comfort and convenience while carrying the bag, especially if you have other bags to carry as well.
Another consideration is the color of the leather travel bag. While black and brown are the most traditional colors, consider branching out and choosing a unique color that suits your style.
Tips for Choosing the Right Leather Travel Bag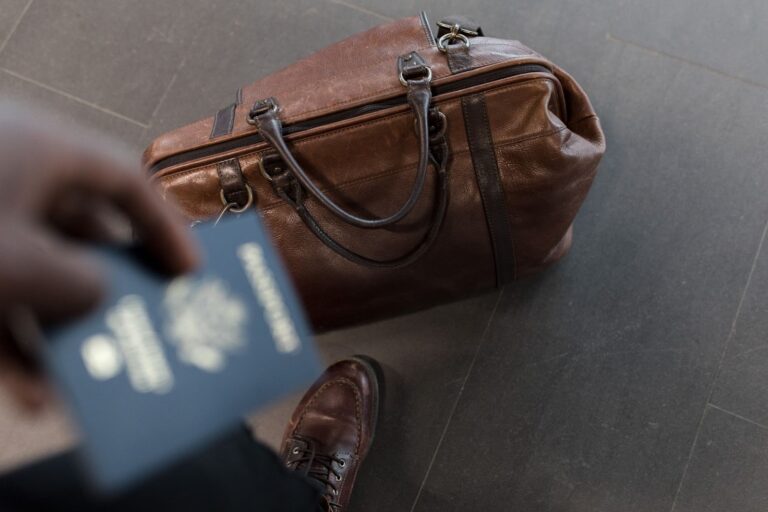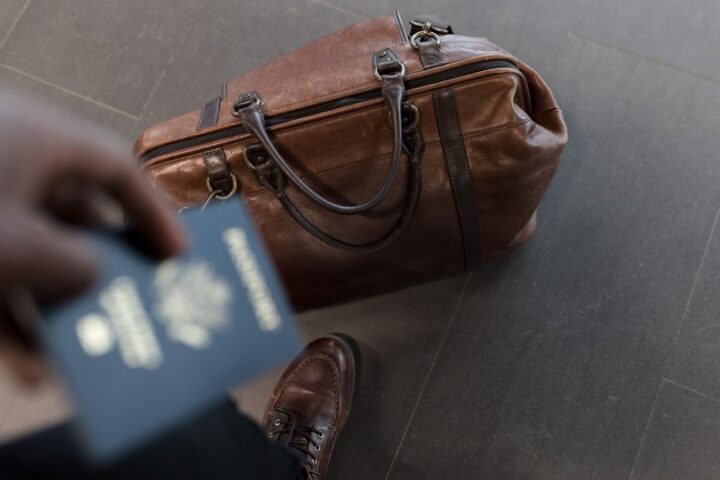 When it comes to choosing the right leather travel bag for your next trip, there are a few helpful points to consider. First, decide on the type of bag you are looking for. Will you need a backpack, messenger bag or duffel? Each style offers unique features and benefits, so choose the one that best fits your needs.
The size and capacity of the bag is another important factor to think about. Make sure it can fit all of your items without weighing you down. You should also pay attention to the straps – they should provide maximum comfort while supporting the weight of any loaded items.
Once you have narrowed down these basics, look into specific details such as closures (zipper or drawstring), interior pockets and extra compartments, shoulder strap length and adjustability. You'll also want to make sure your luggage is water-resistant or waterproof so it can withstand all weather conditions that come your way on your journey. Finally, look for quality construction with durable leather material – this will ensure your bag will last through many trips!
Care and Maintenance of Leather Travel Bags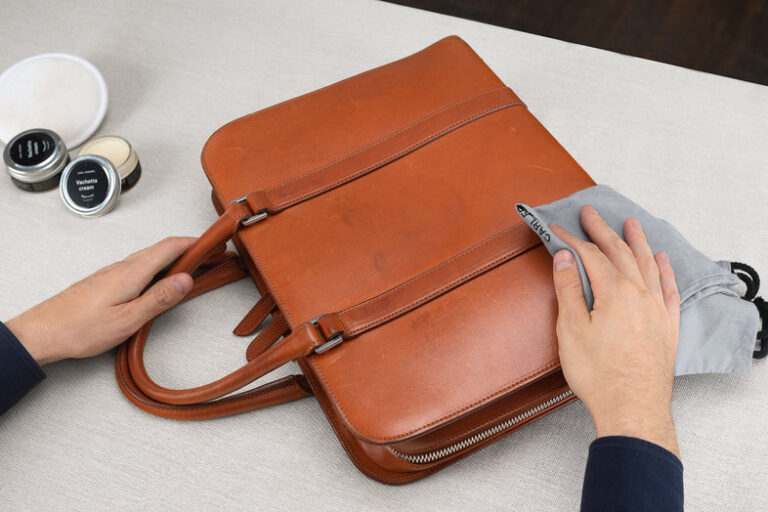 Caring for a leather travel bag is important to prolong its life and keep it looking its best. To ensure your leather bag is well-protected, it's important to clean and condition the leather regularly, avoiding certain products to avoid damages.
Before using any cleaning product on your leather travel bag, be sure to test it in an inconspicuous place on the bag such as underneath the handle or on an area of special importance. Avoid harsh detergents or chemical cleaners, which can ruin the material and leave unwanted marks.
You can begin by wiping your leather travel bag down with a damp cloth if there is light dirt or debris while being careful not to soak the material. Once dry, you can use a quality leather cleaner followed by a conditioning cream that ensures your travel bag is kept soft and supple. To finish off the care process, apply some waterproofing spray to make sure no additional water is absorbed into the material during future journeys.
By following these steps of proper maintenance for your leather travel bag, you will ensure its maximum longevity for many more years of adventurous travelling!
Final Thoughts
In conclusion, purchasing a leather travel bag is a great investment for any traveler. With the right size, quality, and style, a leather travel bag can last you for years and make your travels more enjoyable. Remember to consider