When it comes to naming the greatest basketball player of all time there's one player who eclipses all others, Michael Jeffrey Jordan.
It may be some twenty years since he shot his last hoop at the ripe old age of 40, but no one else has been able to touch his career record of six NBA championships, five MVPs, and 14 All-Star game appearances since then.
But what has been even more remarkable than this has been his countless successes in other fields ever since his retirement.
Not only does he continue to make an estimated $40 million a year from various sponsorships and endorsements he also continues his long relationship with Nike. He has even appeared in films and TV ads alongside Bugs Bunny as well as having many other commercial links. He even owns an automotive dealership that bears his name and is a major investor in a golf course in Florida, the game being another of his passions.
Air Jordans have become a staple piece of footwear in both the fashion world and the sporting world. There was a whole movement created by these shoes, especially with the young black Americans in the 1980s all the way through to the 1990s, although this can be argued that it is still a staple piece of clothing even to this day. They can be seen featured in films and tv-shows and worn by many major celebrities. People who own Jordans are known to avoid scuffing the shoes and creasing as they are a precious fashion statement.
Alongside all this, he has also carved out a reputation for himself as a dedicated follower, and leader, of fashion. What makes this fact all the more remarkable is that his 6' 6", 216-pound frame wouldn't normally lend itself to carrying off very stylish looks. So, let's examine how he did it.
Suited and Booted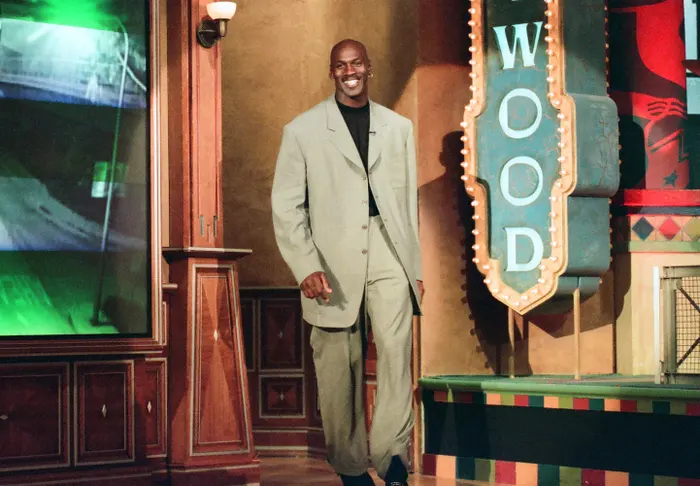 If you look back to the late 80s and early 90s when Jordan was at the peak of his powers, this was an area of power dressing and the "greed is good" philosophy of the movie Wall Street's Gordon Gecko.
But Jordan had the presence of mind to take his suits in an entirely different direction. Instead of power, he relied more on swagger favoring oversized tailoring in soft and sensuous materials. The jackets were extra-long, and the wide-legged trousers were pleated to accentuate their bagginess. He often paired these not with a shirt and tie but with crew-neck jumpers to add an extra element of informality. The result was a style all of his own.
Totally Casual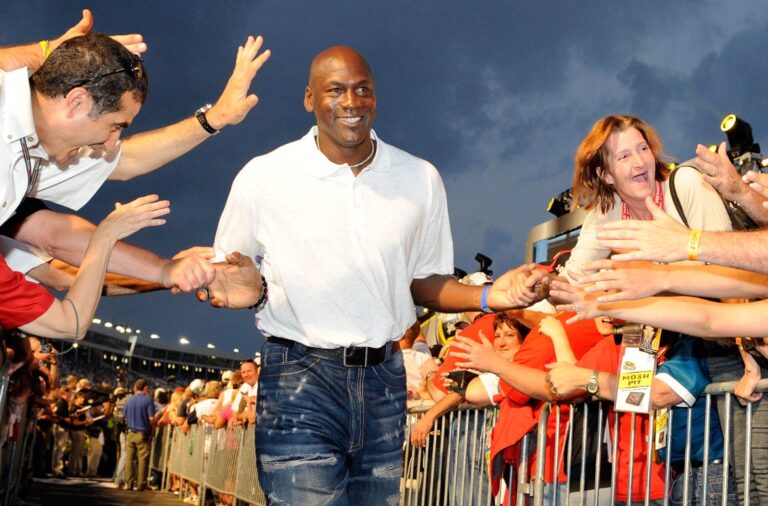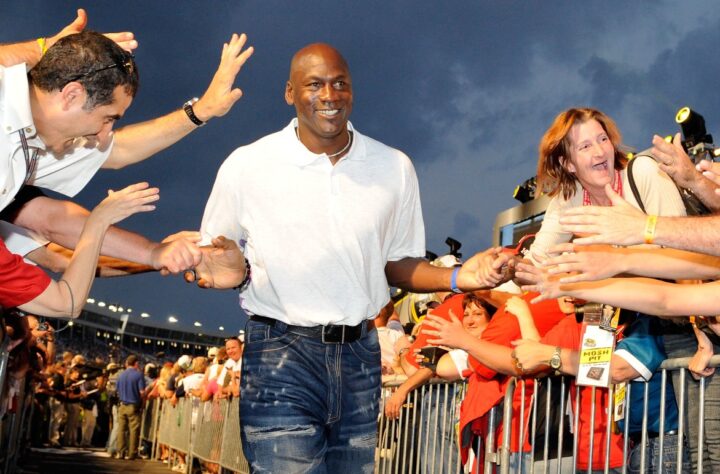 He's always been equally idiosyncratic when it's come to his casualwear, not always with the greatest of results. It has to be said that his penchant for double denim did raise some questions about his judgment. But his total relaxation and comfort in the look and style meant he was always able to carry it off.
He was also always willing to play with conventional basketball fashion by being seen out and about adorned in a variety of shorts and shirt sets. Never subtle in their colors, again his huge frame and larger-than-life presence meant it was easy to pull this look off.
Michael is remembered by many for his 90's patterned sets, whether it's a matching set or a patterned shirt paired with blue jeans. With his physique, her could pull off just about any outfit and make it stylish.
Completing the Look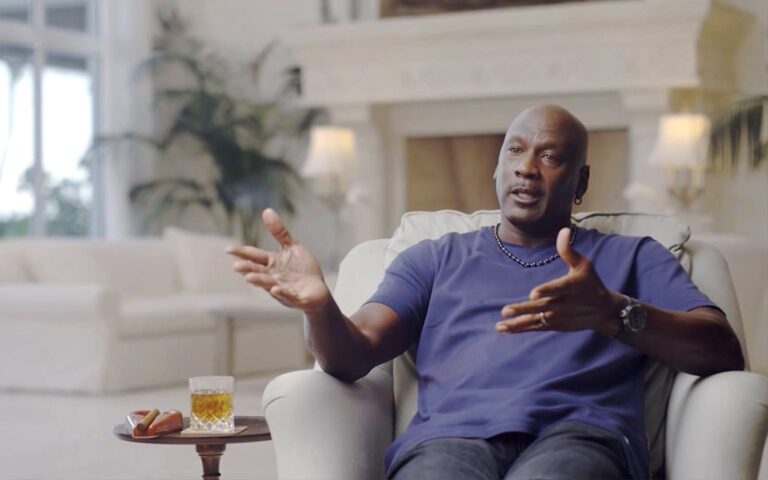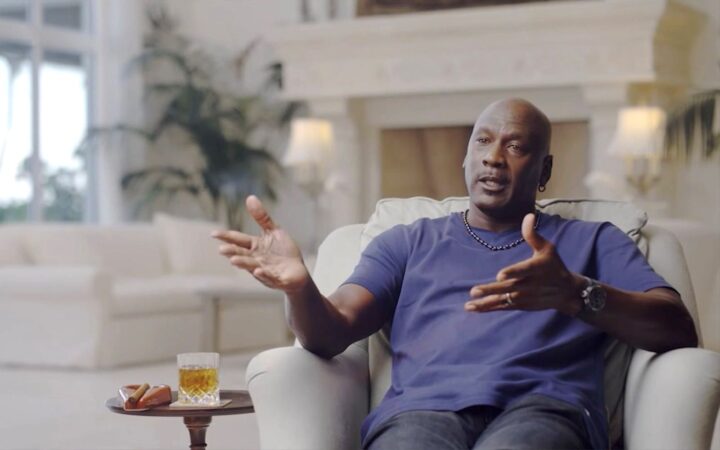 There's no getting away from the fact that today's generation of basketball players veer towards the blingy end of the scale. But that's never been Michael's style. At most he's only ever been seen out with a relative modes gold neck-chain and small earring.
Maybe the one area where he's diverged from this has been in his love of quality time-pieces – but then you'd hardly expect to see a man of Jordan's caliber out and about with a Casio digital on his wrist.
Another element that may complete his look is his NBA championship rings as he has 6 rings to choose from; He received this championship rings through the Chicago Bulls, all between 1990 and 1998. This also puts him in the list for players with the most championship wins, however, Bill Russel still holds that number 1 position with 11 championship wins in the NBA.
You can also see him bring his casual style and love for basketball clothing alongside wide-fit style clothes into the 1996 film Space Jam. Within this film, you see his need for his UNC Basketball shorts to be worn which he usually was seen wearing under his normal team uniform. This is actually the reason why basketball shorts are the length they are today as Jordan needed his shorts whilst playing for the Bulls to be long enough to cover his UNC shorts.
The Nike Connection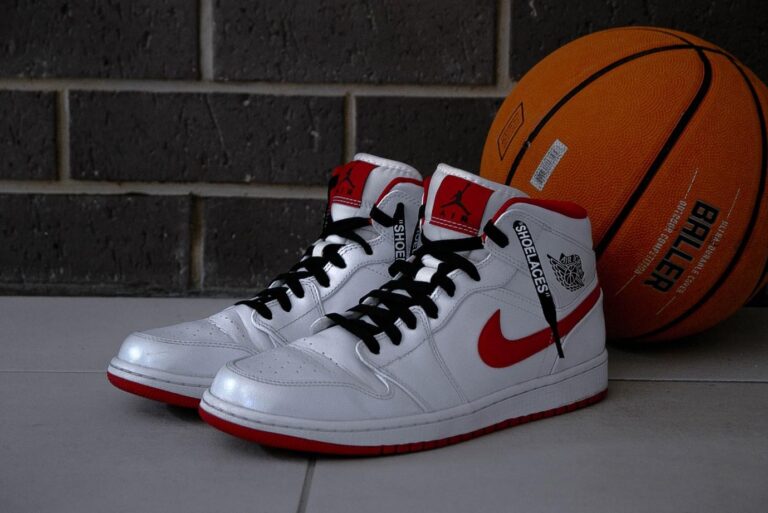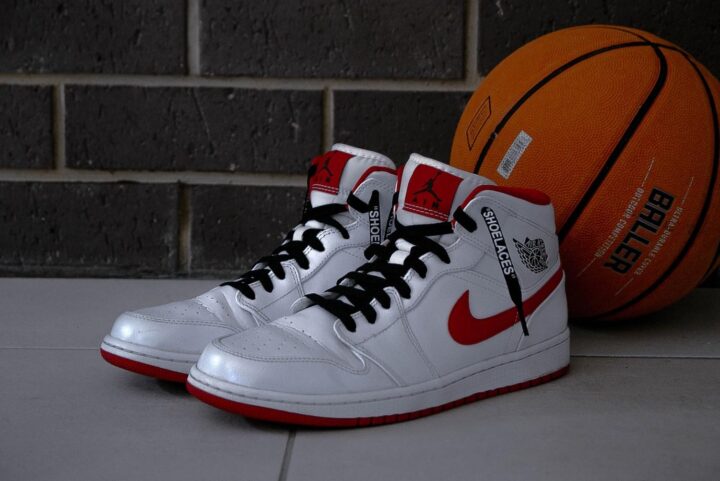 On a broader scale of style, Michael Jordan has also transformed athleisure wear for the whole world. This has all to do with his 40-year association with Nike. It began as he meant to go on by producing the first pairs of Air Jordans in the then-banned colors of black and red – and flouting NBA rules each time he turned out for the Chicago Bulls.
This led to a $5,000 fine each time it happened, a sum Nike was happy to cover in exchange for the notoriety it brought them and Jordan. After all the Bulls weren't doing so well before Jordan joined the team and therefore no amount of fines compared to the success Jordan brought the team.
Ever since then, he has continued in his iconoclastic way, continuing to influence fashion and style. And now, at sixty years of age, it doesn't look like he's set to stop doing this anytime soon. It is no wonder after his successful film, TV, and basketball career that his net worth is said to be $2 billion.  $1.8 billion of that is made through endorsements alone, through his work with Nike and Gatorade.