Gourmet gift baskets are quintessential presents for any of the special guys in your life. Buying gifts for men can seem particularly tricky sometimes; however, nothing could be more delicious or simpler than a basket full of gourmet delights. When you select a basket from among the rich collection offered by HampersWithBite, you can be assured that you will be sharing the very best snacks, desserts, and treats available. Below are some ideas for gourmet gifts for the very special men in your life, regardless of the occasion:
Beer Gift Basket
If your special guy is a beer lover, you can ask for a 'basket' made out of a handsome galvanized steel bucket. In the bucket can be an artful arrangement of a few delectable microbrews that are well-known for their complex and distinct flavors. Add some tasty snacks to the bucket as there is nothing that goes with delicious beers like delicious snacks. These could include gourmet eats such as different flavors of gourmet popcorn, pistachio nuts, and pretzels. This combination is sure to make a special gift that he will surely appreciate.
Basketful of Scrumptious Snacks for Your Fun-loving Guy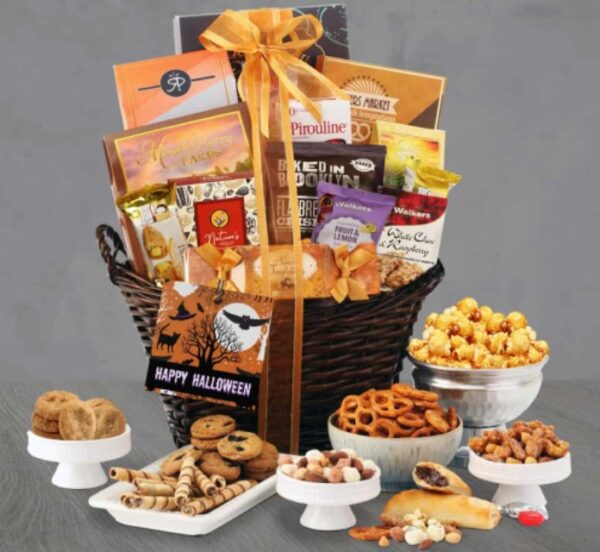 Whether he is enjoying a movie with a special someone or with his friends at a game, it is almost a certainty that tasty snacks are always around. As such, you can get him a remarkable gift basket that is not only full of yummy snacks, but the finest ones ever manufactured. Present him with a basket loaded with award-winning gourmet delights such as classic pretzels, sweet cookies, gourmet crackers, and a variety of premium cheese. This amazing gift basket is one he will be powerless to resist and one he will also remember for a very long time.
Meat Lover's Dream
A thoughtfully-arranged meat and cheese gift basket is sure to tickle the taste buds of your special meat lover. He is sure to enjoy sampling all the delectable flavors that are prepared artfully for his tasting pleasure. You can give one of these baskets filled with the best meats and cheeses that are currently available.
The content of the basket could include his favorite cheeses from renowned producers across the country and globe, crisp crackers, and responsibly-sourced sausages. You can up the ante with an assortment of meaty goodness in a variety of forms to make it an ideal basket for the male carnivore in your life.
For example, you could have beef sausage smoked strips, pepperoni sticks, beef sausage sticks, and maple bacon jerky included in the basket. Spicy and sweet beer mustard could also be added for dipping. These inclusions will set his gourmet meat and cheese basket apart from the competition and he will thoroughly enjoy it. He will be able to share the basket with someone special or simply enjoy it by himself.
Wine Him with This Gift Basket Idea
You can give that special man in your life a basket that features premium wines such as Pinot, Cabernet, or Red Blend and pair them with gourmet treats. These threats could include handcrafted chocolates, artisan cheese and other savory and sweet snacks. This basket can be a remarkable gift whether he is celebrating his birthday, Father's Day, Christmas, or just for being an awesome guy. Toast your wonderful man with a wine basket that he is sure to love.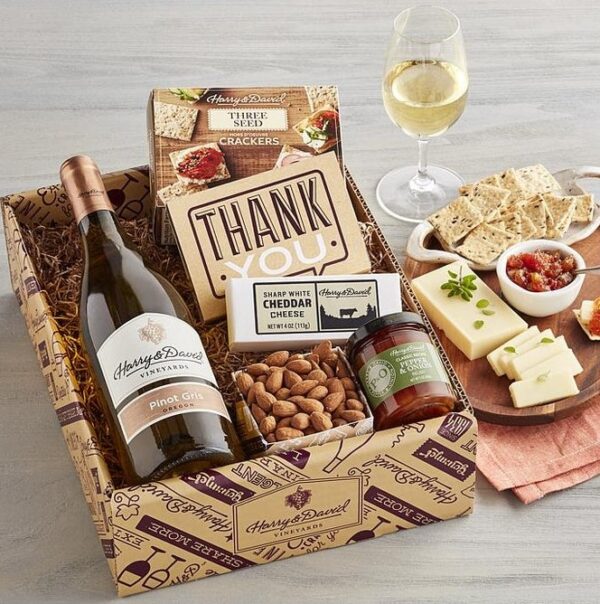 Coffee Lover's Delight
If that special guy in your life views himself as a coffee connoisseur of sorts, he is probably eager to sample coffee from all across the globe. As such, giving him a basket with six to eight of the bestselling gourmet coffees and indulgent roasts would be a great way to make a special day a lot more wonderful or transform an ordinary day into something spectacular. The sampler collection of coffees is sure to add a sense of adventure to his morning cup.
Assorted Cookie Basket
If one of the men in your life is a bit of a cookie monster, this gift basket could provide just what he needs to have a fantastic day or few days. The basket can contain a grand mix of specialty cookies, arranged to look like a bouquet, with additional cookies artfully arranged around them. This will lead to the creation of a scrumptious and unique gift for the man who has a sweet tooth. There are a number of different gourmet cookies that can be included in this basket, which can pique his interest and taste buds for days to come.
For the Barbecue King in Your Life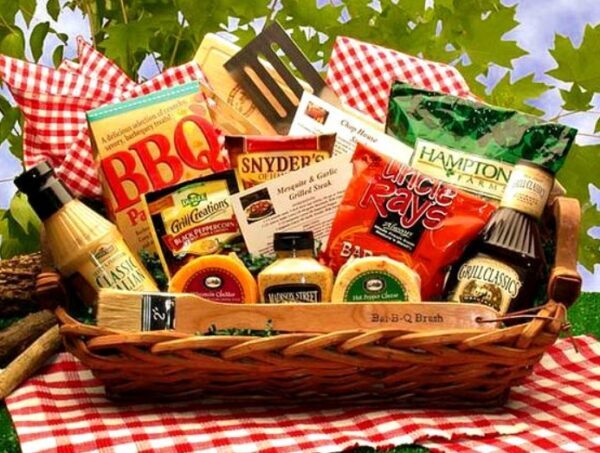 The deserving grill master in your life is sure to appreciate a gift basket that caters to his finely-tuned grilling skill. The ideal basket should include more flavor options he can use to experiment with, such as dry glazes and dry rubs crafted for poultry, beef, pork, tofu or fish. It should also contain specialty mixes like ancho, chipotle, brown sugar, and allspice that can truly transform a regular barbecuing session into something that is gourmet and truly breathtaking.
An Assortment of Fruits and Nuts
This gift basket could be ideal for the male nut lover in your life who thrives on living a fun but healthy lifestyle. The basket is great for many different occasions and can be filled with loads of gourmet nuts, along with other assorted goodies. Gourmet nuts and dried fruits make an exceptional pair. As such, to give a classic gift basket that is sweet and salty, you can include dried fruits in a variety that includes raisins, apricots, peaches, dates, kiwis, mangoes, and plums.
The sweetness of the dried fruits freshly picked from the tree and dried to lock in their goodness is enchanting with the flavorful crunch of deluxe hand-picked nuts. Regardless of the variety, you end up choosing, they will make for special delivery to a very special and deserving guy.
There are a number of other gourmet gift baskets ideas for men. The ones highlighted above can be considered to ensure that a special guy feels appreciated.