Setting a proper workplace, whether at home or in your regular office, is not a simple task. Considering that you spend many hours a day at your workplace, it must guarantee comfort and well-being while promoting productivity. Nowadays, modern technology has enabled the creation of ergonomic pieces of furniture and other office devices. A good example is a standing desk, which allows office workers to work while standing.
In this article, we will provide information on how to create a quality workplace. We bear in mind that a quality workplace should meet several requirements. Hence, after reading this article, you'll be able to select the right components for superior ergonomics, comfort, and productivity. Let's begin.
Furniture for a Quality Workplace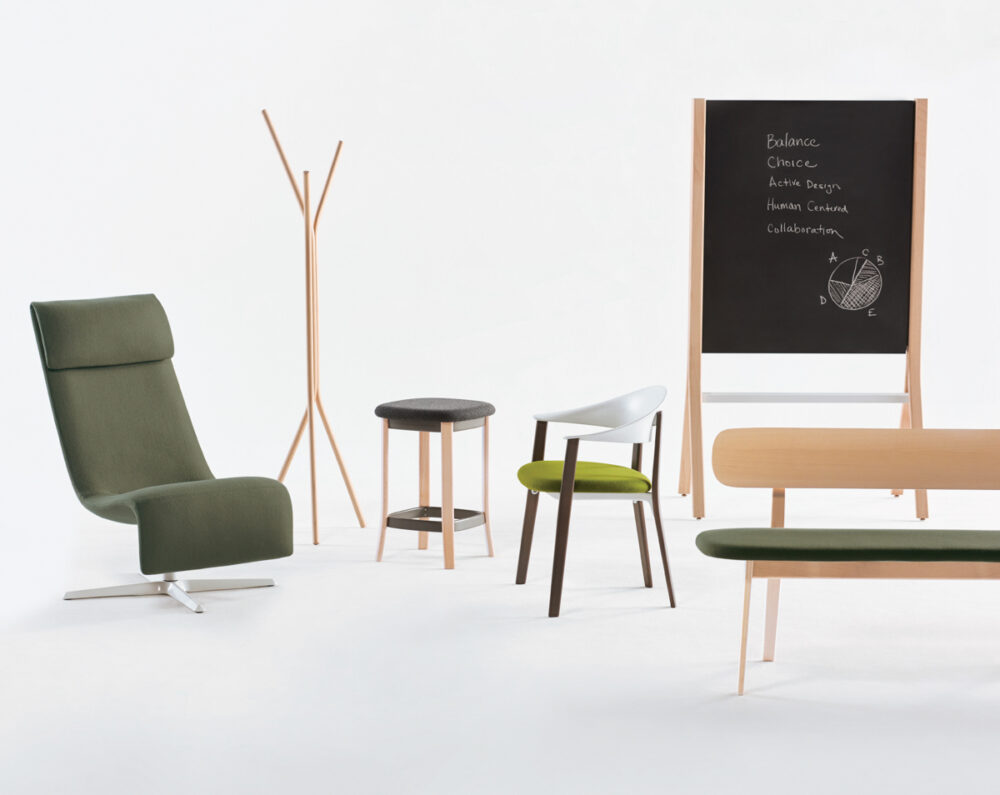 If you want to create a quality workplace, you should begin by selecting the right furniture for it. So, let's begin by identifying what pieces of office furniture you have to pay attention to:
Desk, arguably the most important part of your workplace. You should select the right type and size. If you opt for a standing desk, some manufacturers allow you to customize the tabletop (here, for example);
An office chair, the second most important piece of furniture. Even if you choose a standing desk, you will need a comfortable and ergonomic office chair. We'll elaborate later;
 Lighting, which is often neglected but quite important to ensure comfort and productivity;
Storage space, which will allow you to keep your workplace well organized. Clutter is a recipe to hamper productivity.
Let's discuss in detail the characteristics of this equipment for a quality workplace.
Desk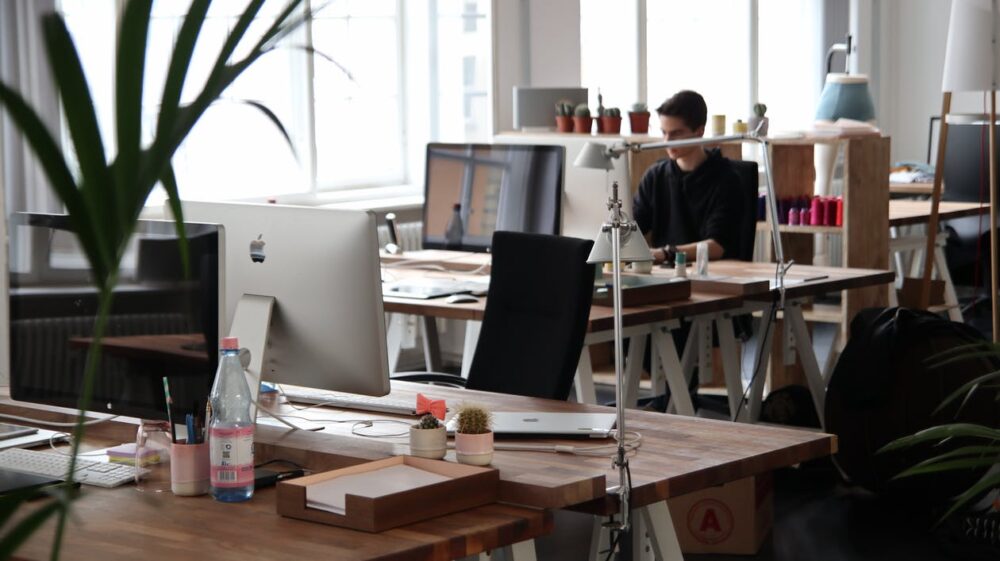 Your desk should be big enough to provide space for all the materials and equipment that you use during a working day. The minimal size of the tabletop should be 160×80 centimeters according to regulations. This size ensures enough room to place your work materials while having some freedom of movement. If you need more space, you should aim for a larger tabletop.
One of the most recent trends is the use of a standing desk. This type of desk is equipped with an electromechanical mechanism that allows adjusting the height of the tabletop. This feature provides two main advantages. First, you can adjust the height according to your sitting position. In this way, you will always be comfortable while sitting and working. And second, you can stand and work.
Multiple scientific studies have demonstrated how harmful a sedentary lifestyle can be for your health. Sitting for several hours can contribute to the development of chronic diseases like obesity, diabetes, hypertension, and others. Hence, switching between sitting and standing positions during a working day can lessen the risk of disease. Therefore, a standing desk is more often integrated into a modern workplace.
Office Chair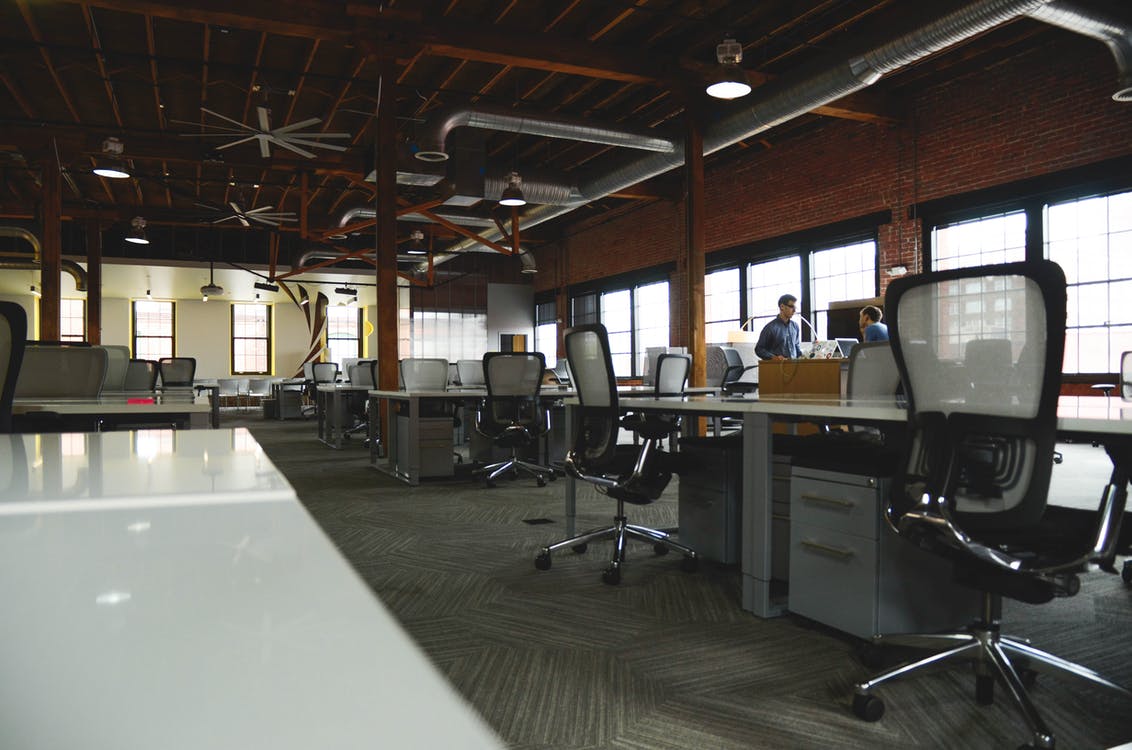 Even if you purchase a standing desk for your workplace, a comfortable office chair is a must. Choose a quality chair, one that allows for the adjustment of the seat height, inclination of the backrest, and inclination of the armrest. Nowadays, swivel chairs are the most commonly used for quality workplaces since they allow all the above adjustments.
Lighting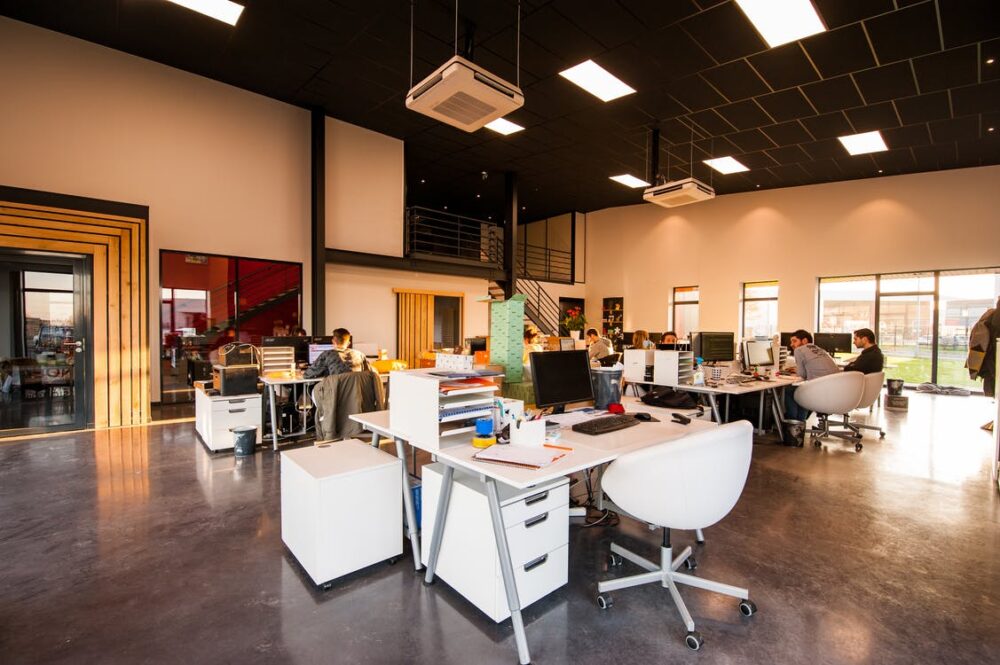 Proper lighting is crucial for a quality workplace, although it is often neglected. You should locate your desk by a window, so you can have plenty of natural light during the daytime. If you cannot do it, then you should install the necessary lamps to guarantee proper lighting. Lamps on the roof are good for the basic level of lighting. But you also need table lamps for detailed tasks. Also, floor lamps are necessary to create a cozy atmosphere. Without proper lighting, your productivity will suffer.
Storage Space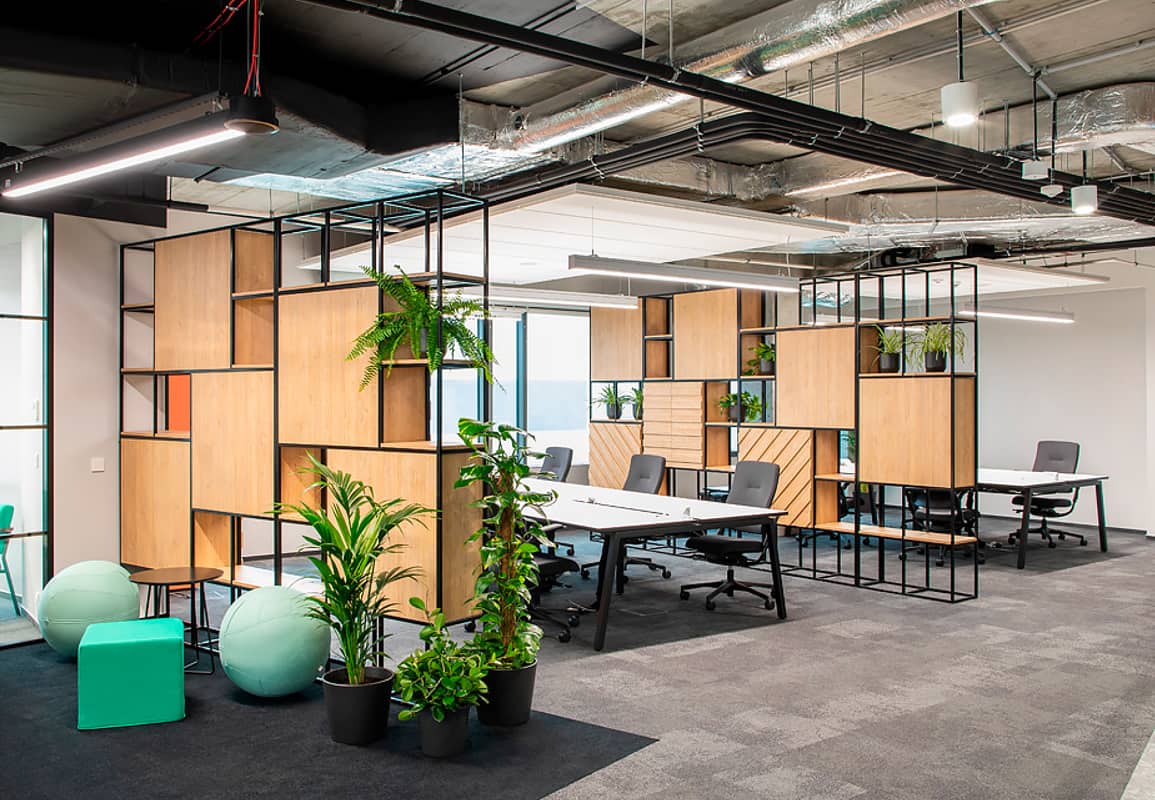 It is normal to have some folders and even a cup of coffee on your desk during working hours. In some cases, it is even part of the creative process at work. But having a permanent mess on your desk because of a lack of storage space is counterproductive. Clutter should be avoided. Nobody is productive when all the papers, materials, and equipment are not properly organized. In contrast, a tidy workspace motivates you to work.
So, you can avoid clutter by installing shelves on your desk. Or you can consider a mobile pedestal beside your desk. These solutions are ideal to store documents that you use frequently during your working day. To store documents that you rarely use, get some file shelves and install them somewhere in your office.
Computer and Peripherals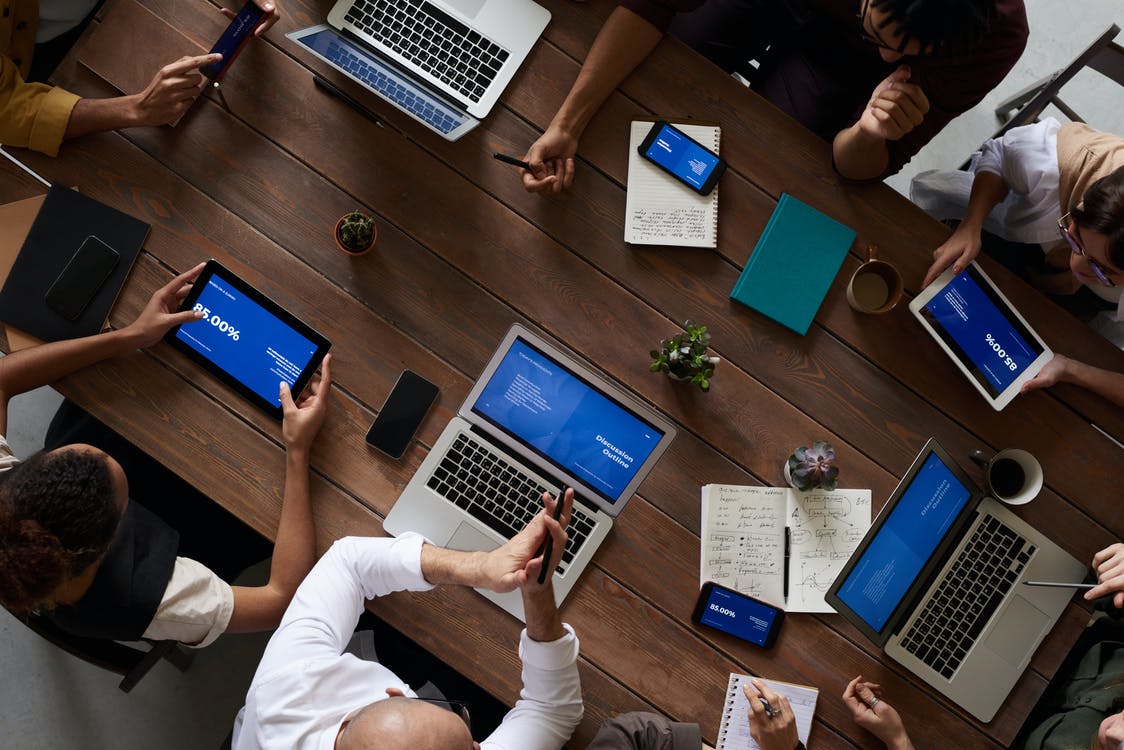 We have discussed the necessary furniture for a quality workplace. Now, let's discuss another important element of your workplace, the computer. Nowadays, it is hard to imagine office work being done without a computer. You have to choose the most suitable computer for the tasks that you perform daily. If needed, get a large monitor or another peripheral that will help you to be more productive.
Also, you should select the computer type that best suits your role. If you work at your workplace only, a desktop computer is the best choice. However, if you are constantly on the move (traveling, supervising projects, etc.), a laptop computer is more recommended.
If you need to scan and print documents daily, get a quality multifunctional printer. In all cases, invest in high-quality equipment. Buy the best computer that you can afford for the tasks that you do at work. You will be much more productive using quality equipment.
Other Factors to Consider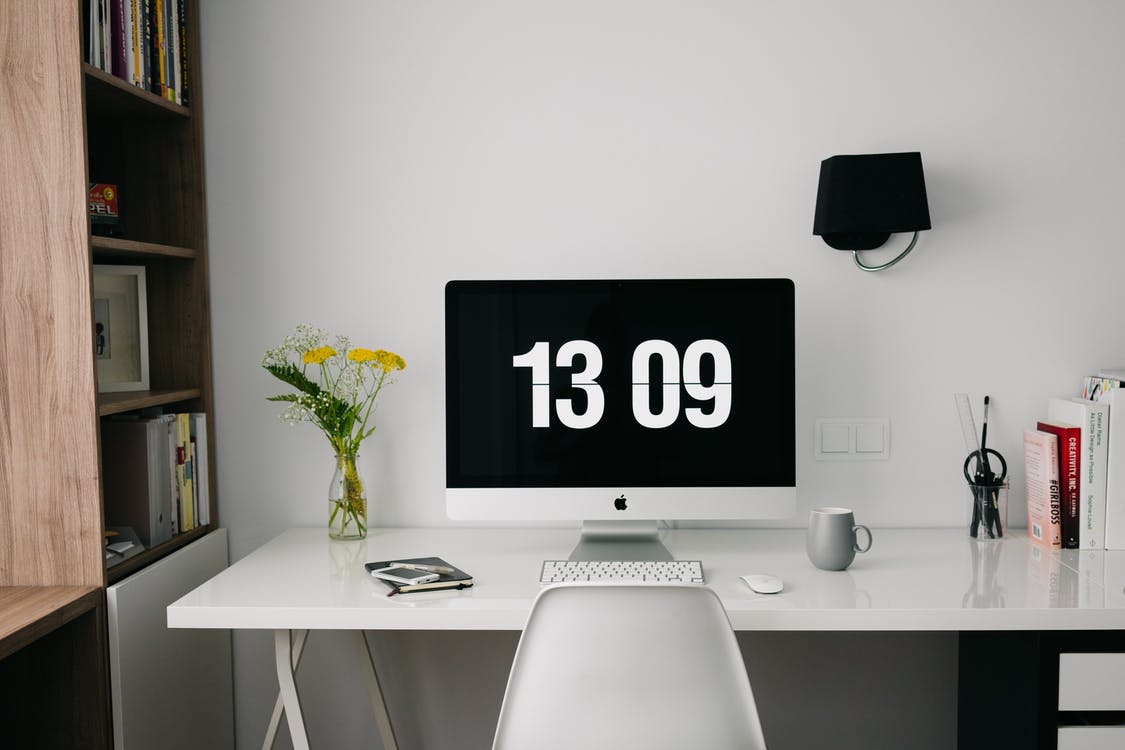 For the creation of a quality workspace, you should consider other aspects. One of them is sound insulation. Your workspace shouldn't have a high level of noise pollution. Therefore, you should separate your desk from others using walls, table partitions, or other solutions.
To create an agreeable atmosphere, make sure your office is clean and tidy. Keep the floor and walls clean, and put every item in its place.
Conclusion
You can create a quality workplace by integrating all the elements described in this article. Office furniture plays an important role. However, you have to consider other factors like lighting, hygiene, and order in your office.