Are you finally settled on redecorating and renovating a home? If you have, then you are probably looking at the type of paint for your walls, light fixtures, new kitchen elements, furniture, and all kinds of other stuff. With so many things in mind, it can be impossible to focus on everything. But, there are some elements of the redecoration process that are essential to creating the image/style you originally wanted. One of those essential elements is the coffee table in your living room.
Believe it or not, but a lot of interior designers and other experts focus on this little coffee table in the living room. In fact, some of them even choose the colors of the entire room based on that furniture.
With this in mind, you can understand just how important it is to find the right type of coffee table for your living room.
However, the problem is not only in picking the right color and design, but it is also important to pick the right size. If it is too large, it can reduce the openness of the living room space. If it is too small, it will be too insignificant.
To make sure that you make the right choice, here are a few tips you could use to choose the right size.
Height
It is not just about the with and the length, you also have to consider the height of the coffee table. Remember, there is no universal answer to these issues. The height of this element depends entirely on other pieces of furniture in your living room.
For example, if you have a sofa or a couch that is taller than the standard, you will probably need a coffee table that is also taller.
You should be looking for some kind of balance. It must not be too tall, otherwise, it will be uncomfortable to sit down with glasses, plates, or anything on it. But, it also should not be too short. This will make the use of this furniture even more uncomfortable.
If you are looking for the perfect height, it is recommended to go with something that is between 15 to 18 inches. That is between 38 and 45 centimeters. This puts it right under the height of the cushions of the couch. It should not be taller than that.
Length
Again, the answer to this question is completely relative. To know exactly what kind of length you should be looking for, you will have to use the other furniture in your living room as a scale.
Think of this entire process like you are piecing a puzzle together. Everything needs to be the right size, color, and shape to fit together.
The single most important element aside from the coffee table is the couch/sofa. Use the length of that piece of furniture to know exactly how long your coffee table should be.
More specifically, it should not be longer than the sofa. When it is, it never looks good. For the ideal look, it should probably be one-third shorter than the sofa itself. By keeping it shorter, you allow more open space in the living room. People can comfortably sit down and leave the sofa when needed. If it's too long, even the most basic movement can become a problem.
For those that are looking for a more modern style, something contemporary then you can go with something even shorter. In fact, some contemporary-style coffee tables are not even longer than 40 inches as suggested by nfoutlet.com.
Functionality or design?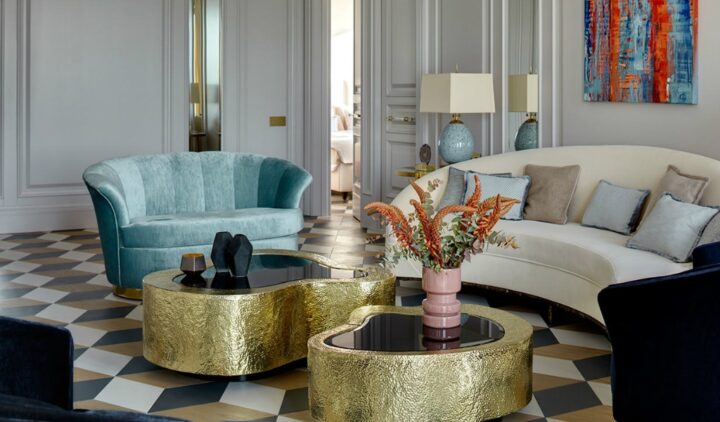 When redecorating and renovating, it is not a good mindset to only focus on the outcome of the design into style. The living room or any other room is a place where you will be constantly. It is a place where you need to sit down and relax. Yes, a properly designed living room can help you relax and feel more comfortable, but you also have to think about the entire functionality of this room.
It is vital to think about your needs and your type of lifestyle. If you do not satisfy your needs, you will end up with a room that does not suit you.
What I am trying to say is that you should find a balance between functionality and design when picking the right size for the coffee table. Yes, a smaller one can look much better and more stylish, but that means that you have to give up on functionality.
Is that the kind of compromise you are willing to make? Of course, if you are ready to make such a compromise, do it. I am mentioning this to ensure that you think everything through.
It is the last piece of the puzzle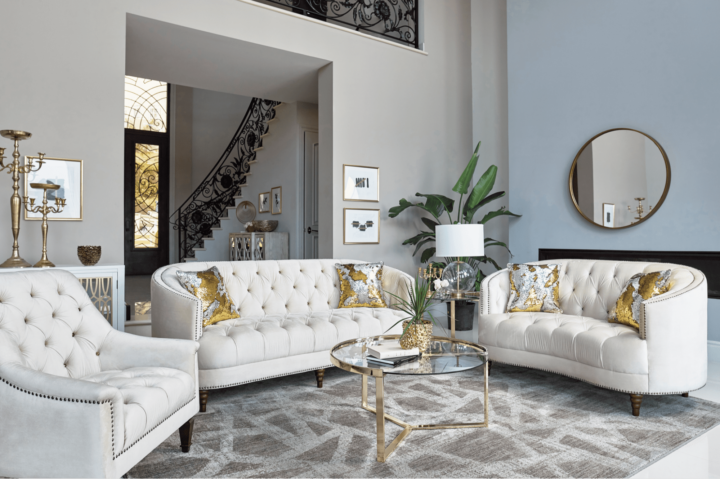 Another important thing that you have to keep in mind is that the coffee table in your living room should be the last piece of the puzzle. It can never be the first. Once you have all the other elements and pieces of furniture added to the room, only then you can make the choice. The choice of the right size, shape, and design.
Also, here are a few pieces of advice that a lot of experts agree on. For the people that are going with the standard triple cushion so far, it is always best to go with the traditional rectangular coffee table. Those that want to make it a little bit more unique can go with a circle or all shapes.
However, if you have a living room with an L-shaped couch, you can forget about the rectangular shape and go with a square. If a square shape coffee table seems too boring, you can try a circle.
Even with all of these tips and information I mentioned above, it still going to be pretty difficult to make the right choice. But, choosing the right size will most definitely help you if you know exactly what kind of height or length you should be looking at. If you'd like to check out more living room interior design ideas, check out this article by Swiss Interior!