Organizing your wedding requires a lot of time and effort. Most of the things you need to plan well in advance – up to one or two years – to find everything that you need and what you like.
Choosing a destination, finding the band for the wedding, making the wedding modern, and also honoring the tradition are only some of the things to consider. For brides, there are also questions on wedding dresses and outfits, makeup, hair, etc, while men also need to find a suit and get ready.
Then, there is a guest list. How many people will you call? Who will participate in your wedding and what their role will be?
These are all the things that you will need to consider. And in this article, we are going to help you out if you plan to organize a wedding in Udaipur!
Udaipur – A Popular Wedding Destination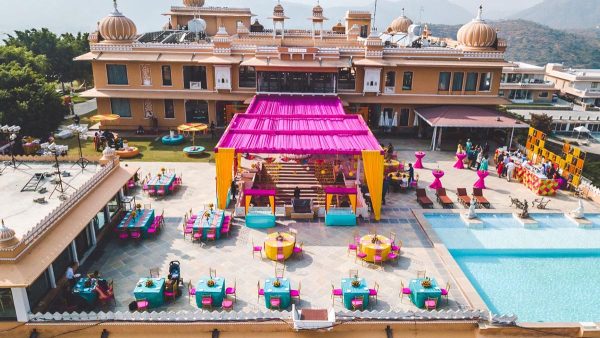 Udaipur is located in southern Rajasthan, approximately 425 kilometers from Jaipur, the region's capital. The city has a lot to offer and it is known as the Venice of the East. Even though Udaipur isn't nearly the largest city in India, it is definitely one of the most romantic places to visit.
Therefore, it comes to no surprise to learn that the city is a popular wedding destination. The beauty of the greenery around the city and the number of its lakes create the romantic atmosphere every couple wants.
The city doesn't attract the people who are about to tie the knot but also a lot of tourists. New tourists arrive daily to this beautiful destination to admire the heritage and simply enjoy themselves.
One of the reasons Udaipur is popular for weddings is because the nearby state Gujarat makes it a prime holiday and wedding destination and Udaipur is the perfect place to get to. Furthermore, the city is well-connected with all the major hubs including Mumbai, Delhi and Jaipur.
Over the years, a large number of venues and hotels have been built to accommodate all the wedding couples and their guests. We've already mentioned city's historic past and beautiful scenery that are great for site seeing excursions and safaris which you can organize after the wedding. Last but not least, although it is a tourist hub, the city isn't crowded, which will give you a great chance to enjoy the time you spend with your new life partner.
Selecting Accommodation/Venue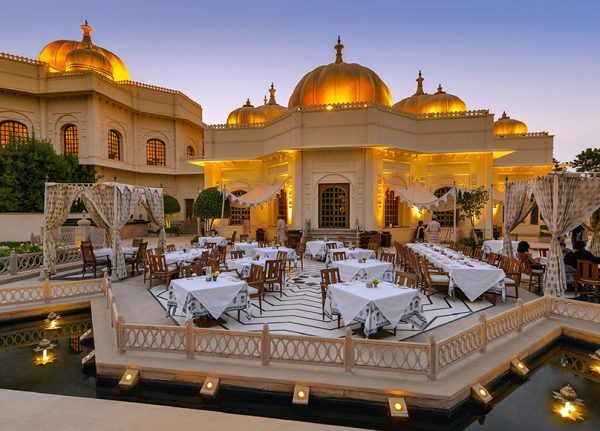 One of the first things that you will need to find is accommodation for your wedding. There are a variety of options to choose from and below, we listed the best ones:
Chunda Palace
Chunda Palace is a popular spot because they have a different arrangement that they offer to the couple who want to get married. This means that you can plan and adjust your budget if necessary. There are multiple custom packages but the cost of organizing a wedding at Chunda Palace will most likely be between Rs. 45 and Rs. 55 lakhs for 100-150 guests
Some of the things that are included are accommodation – a place where you and your guests will spend the night, catering – with the breakfast usually included, but also wedding decorations, wedding management services, sound setup, photography, transportation, etc. If you want to know more about all these individuals and how much they will cost, but also some other details regarding your wedding in Chunda Palace, click here.
Bhairvavgarh Resort
Another beautiful destination that you can consider for your wedding in Udaipur is called Bhairavgarh Resort. This property is ideal for accommodating 120-150 people, but with the expansions that are taking place, bigger weddings will be held here soon.
Fateh Niwas
About 3 km from Chunda Palace is a place called Fateh Niwas, another sound choice for your venue. You should consider this property because it offers well-decorated rooms and ideal venue for the destination wedding.
Best Time for Your Udaipur Wedding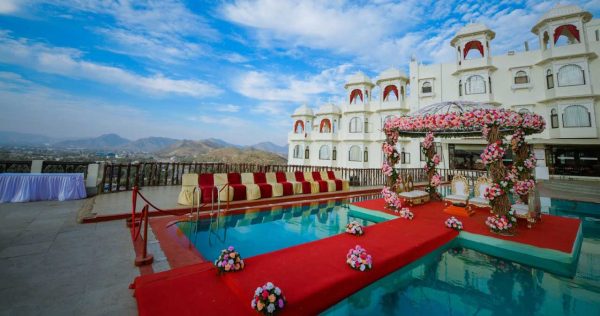 We've already said that you will need some time to plan your wedding. There's an advantage in starting early and that is the ability to choose your date. Udaipur has the most pleasant weather between September and March and this is when you should schedule you wedding. From March to June, Udaipur has some scorching heat and unbearable temperatures, whereas the monsoon season starts from July to September – you don't want to be caught in that either.
Therefore, when planning your wedding, make sure to get any date between September and March.
Other useful tips
The most important thing is to book your accommodation and your venue. Once you have a date you will be able to work other things out. Setting a date means that you will start inviting people to your wedding. Sit down and think about the ultimate list on guests and who you are going to call. Make sure that the venue and hotel can accept and accommodate all the guests you plan to invite to your wedding.
Some venues in Udaipur don't come with accommodation, which means that you will have to book a hotel as well. Luckily, there are a lot of hotels in this city and we are sure that you will find one quickly.
If possible, arrange your own transportation for the wedding. Some venues will provide transport for you, but some won't. You should avoid relying on buses and local cabs. Even though this is a good way to get from one destination to another, you want to be punctual on your wedding day, and you don't want to be looking for a cab.
Check the venue first and decide how much you will spend on decoration. Some venues are pretty rich with the basic decoration plans, so you may not need to pay anything extra because everything will look awesome.
Conclusion
Organizing a wedding in Udaipur is similar to organizing it anywhere else, except that you need to find accommodation for the guests. Even though this may be the case, there is a large number of wedding places in the city and it is all worth it, with everything the city has to offer.