The year 2023 has been all about disposable vapes. With a strong throat hit and high-powered nicotine salts, disposable vape has hit the right chord with the vapers.
Thousands of former smokers and potential vapers now have a way to try out vaping without buying an expensive device and vape juice before they know it's suitable for them, thanks to disposables!
However, as there are a variety of disposable vapes in the market, it becomes difficult to choose the best one for yourself. Thus in this article, we will discuss the 5 best disposable vapes for 2023.
Top 5 Disposable Vapes for 2023
Here we have enlisted the top 5 disposable vapes in the market for 2023. Try them out today!
1. Hyde IQ 5000 Puffs Rechargeable Disposable Vape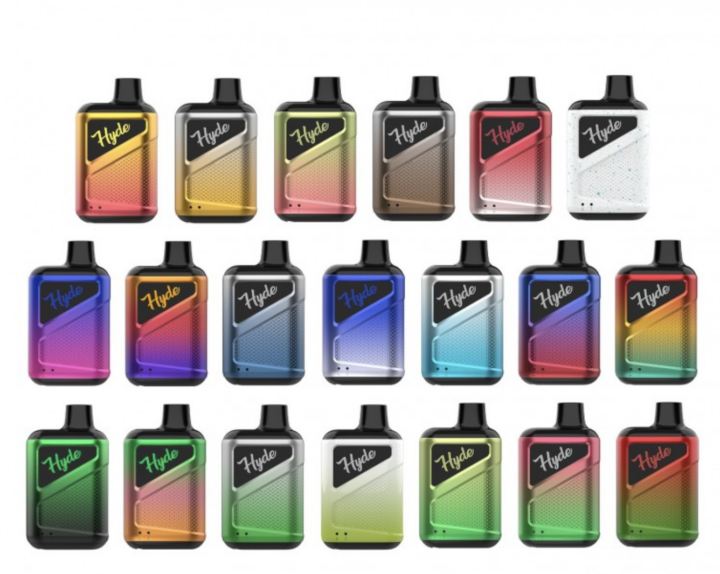 It is one of the newly launched disposable vapes from Hyde. The device comes with 2 LED indicators, displaying the vape juice level and battery life before running out. Also, it is equipped with a smart chip, enhancing your vaping journey.
Hyde IQ disposable vape has an adjusted airflow at the base, making it easier to regulate vapor and flavor intensities. Moreover, it has a built-in mesh coil, providing a smooth vape performance.
Although this device comes with a relatively lower e-juice capacity of 8mL, it is highly efficient to provide 5000 puffs, lasting for a long time. In addition, it possesses in-built rechargeable batteries, delivering you an uninterrupted vaping experience.
Besides, this vaping device comes with 20 exquisite flavors. Some popular Hyde flavors include Watermelon Fizz, Pink Drink, Menthol, Blue Drink, Lemon Drop, Watermelon Chew, and Apple Peach Watermelon.
Thus, if you want a device with a high puff count, sustainable battery backup, and additional high-tech features, Hyde IQ 5000 Puffs Rechargeable Disposable Vape is your ideal pick.
2. Esco Bars H20 6000 Puffs Rechargeable Disposable Vape
Esco Bars H20 is one of the most popular disposable vapes, widely preferred by customers. It has a beautiful, discreet design with adjustable airflow.
This disposable comes with a voluminous e-liquid capacity of 15mL, supporting a maximum puff count of 6000. Thus, if you are a regular vaper who likes to draw deeper and longer puffs, opting for this device is recommended.
The experience is further enhanced with a mesh coil equipped in the device. It produces stronger and denser vapor clouds, giving you the perfect hit and flavorful sensation.
One of the most significant advantages of this vape is that it is rechargeable despite having a strong battery capacity of 650mAh. Thus, you can not only use it for a long time but also recharge it whenever it runs low on battery to enjoy hassle-free vaping sessions.
This product comes in 5 mouth-watering flavors in colored packages. It includes Vanilla Custard, Mango Lassi, Blueberry Bubblegum, Green Apple, and Strawberry Milkshake.
3. Elf Bar BC5000 Rechargeable Disposable Vape
Elf Bar BC5000 is a rechargeable disposable vape that possesses a high e-juice quantity of 13mL with 50mg nicotine content. Powered by a high battery capacity of 650mAh, the device can effectively last for a maximum puff count of 5000.
Besides, this vape comes with in-built rechargeable batteries, so you need not worry about running out of power. Whenever it shows a low battery sign, plug it in with a USB charger and recharge it anytime, anywhere.
The most attractive thing about this vape is its diverse flavors. From tropical fruity and savory tangy notes to simple menthol and mocktail tastes, you'll get all flavors in this product. Thus, it will help satiate your taste buds, offering you a flavorful vaping experience each time.
Also, you'll get a unique assortment of flavors in Elf Bar BC5000 vape's Limited Edition. Some popular ones include Blue Razz Ice, Blue Drink, Watermelon Fizz, and Starberry Pina Colada.
4. Geek Bar E600 Disposable Vape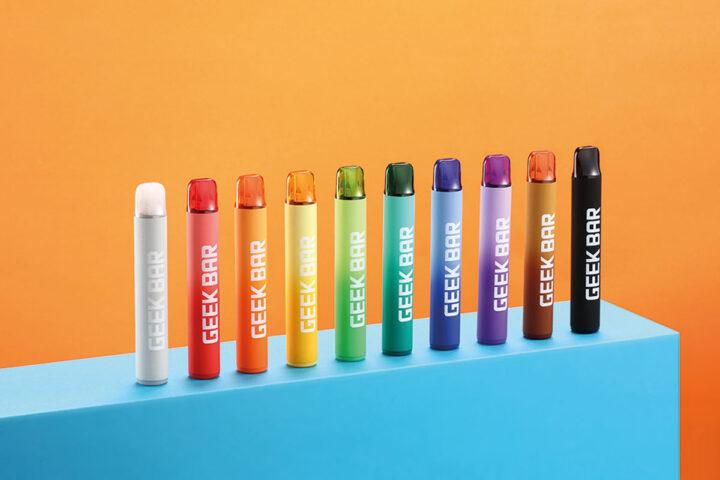 Geek Bar E600 is one of the best small-range disposable vapes available. With a color gradient body, transparent mouthpiece, and a rubbered grip, this device not only allures customers but also makes it easy to use.
This disposable vape typically comes in 20 delicious flavors like Apple Peach, Blueberry, Blueberry Pomegranate, Cola, Fresh Mint, Fuji Melon, Jungle Juice, and more.
With only 20 mg nicotine strength in 2mL e-juice capacity, it facilitates sound health while rendering a flavorful vaping session. Thus, this device neither compromises your health nor your vaping experience.
Also, this vape product comes with a transverse heating coil powered by disposable batteries of 400mAh capacity to produce 600 dense puffs for enhanced flavor.
Alongside, it has an LED battery indicator to showcase when the battery is about to exhaust, making it convenient for users to purchase another vape.
Thus, owing to a low e-liquid quantity with a low nic salt percentage, smaller puff counts, and a fantastic range of flavors, this disposable device from Geek Bar is a perfect choice for novice users who are just entering the vaping world.
5. Elux Legend 3500 Puff Disposable Vape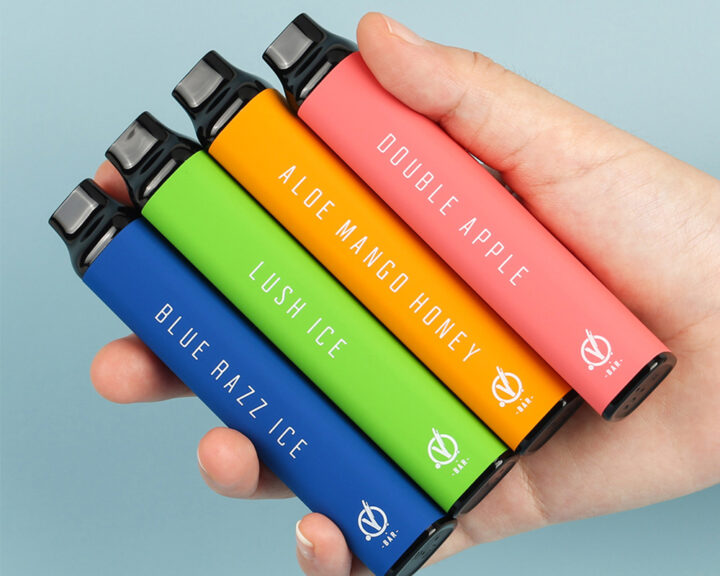 With a sleek design and incredible features, this is one of the trending disposable vapes. It has an excellent battery capacity of 1500mAh, delivering quality vape sessions for a long time.
Although this device is prefilled with only 2mL of TPD regulated e-liquid having a 20mg nicotine level, it offers a high puff count of 3500.
However, one of the significant features of this disposable bar is that it has a tighter airflow, which is majorly designed for regular smokers, helping them effectively get rid of their smoking habits.
Moreover, this disposable offers a wide range of delectable flavors to enrich your vaping experience. Some of the favorite ones are Grape, Vimto, Blue Razz Lemonade, Tropical Bunch, Strawberry Energy, and Blue Razz Lemonade.
Summing Up
Amongst the vast range of disposable vapes available in the market in 2023, the ones mentioned above are the best from various aspects. Some might last longer, a few might be better in flavor, while others will provide a higher puff count.
However, it can be said that these disposables combine the value of enjoyment, performance, and affordability to give the best value for your purchase. So, do check out these disposable vapes and choose the one you like the most.