African prints are a gift from the gods—gorgeous, full of culture, but sometimes hard to style. If you're an afro-print enthusiast, you probably know that one of the greatest perks of wearing afro-prints is the fact that they are so versatile. They can be made into a wide variety of outfits and worn for any occasion in a variety of ways and at any time of the year.
African prints offer a lot of options for the fashionista. Be it dashiki, Ankara, or Kente, African prints are beautiful and vibrant fabrics that are full of history, culture, and personality. They are vibrant, colorful, and bold and are also available in different designs and styles. There is a print for every occasion or fashion statement that you would wish to make. This is why it can sometimes be difficult to style these prints in a way that's both unique and beautiful.
With a few tips and more time to immerse yourself in the world of African prints, you can become a remarkable stylist and begin to style African prints in chic, fashionable ways that are sure to turn heads. But before then, we can always help you appear perfect and ready for the occasion. Ready to take a look at some gorgeous, fashionable ways to style African prints? Let's explore!
Mixing African Prints with Other Designs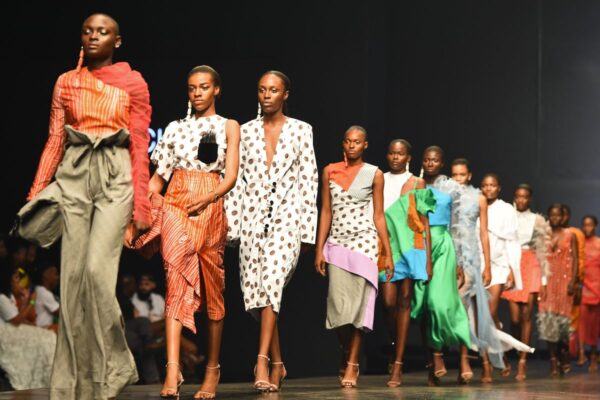 African prints are great for adding a pop of color to your wardrobe and matching two pieces together is the easiest way to incorporate African prints into your daily wardrobe.
One of the most popular African prints is the dashiki. And there are different ways to wear a dashiki, thanks to leading and popular African fashion brands like D'IYANU. Here are a few ideas to mix your African prints with other designs.
Mixing prints of different sizes can add an interesting layer to your look. For example, if you're wearing large-scale African print pants, try pairing them with a small-scale print top.
Mixing prints in the same color palette is a great way to make your outfit look cohesive. For example, if one print has a lot of blue in it, choose another print (or multiple other prints) that also has blue in it.
If you want to mix two different African prints, try sticking to the same scale or color palette. This will help create cohesion between the two prints, and your outfit will look more put together as a result.
Pairing African prints with stripes or polka dots is an easy way to break up the pattern without distracting from the overall look.
If you're mixing multiple African prints at once, stick with solids or neutral colors for everything else—the accessories, shoes, bag, etc.—creating an effortless look that's not too busy or distracting from your beautiful prints!
Go for Bold Bottoms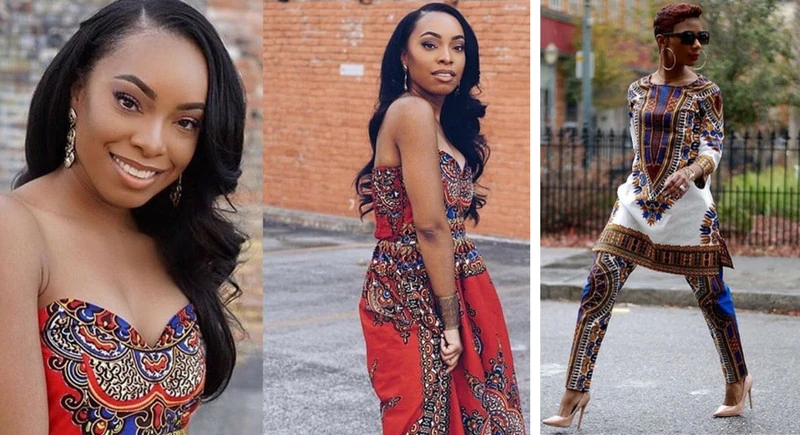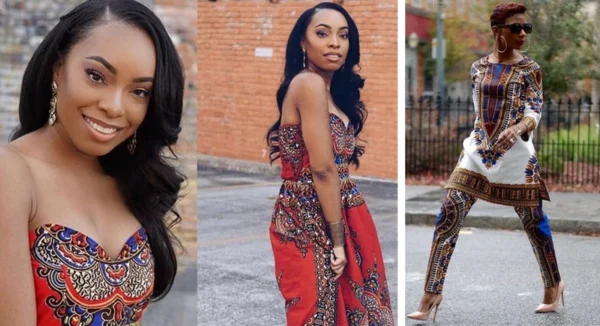 When it comes to mixing African prints with other designs, you can't go wrong with bold bottoms. Whether you're wearing a colorful top or an understated one, pairing it with bold-patterned bottoms will help bring your entire look together.
African prints, such as dashiki, can be seamlessly integrated into any wardrobe by keeping these tips in mind. You have three options when it comes to matching your bottom.
Mixing African prints and solids: If you're worried about rocking a full outfit made from African print materials, go for bold bottoms instead. The solid color on the bottom of a skirt or pants creates a cohesive look when paired with African prints. For example, if your top has blue in it, choose a solid blue bottom to match.
Matching contrasting patterns and colors: Consider matching contrasting patterns and colors that complement each other. For example, if your top is multicolored and busy, you might want to pair it with a single-colored or patterned bottom for contrast.
Matching similar patterns and colors: If you want to take the bold route, match patterns and colors that are similar but not exact. For example, if your top has red in it, choose a bottom that has pink in it (or vice versa).
Add a Splash of Color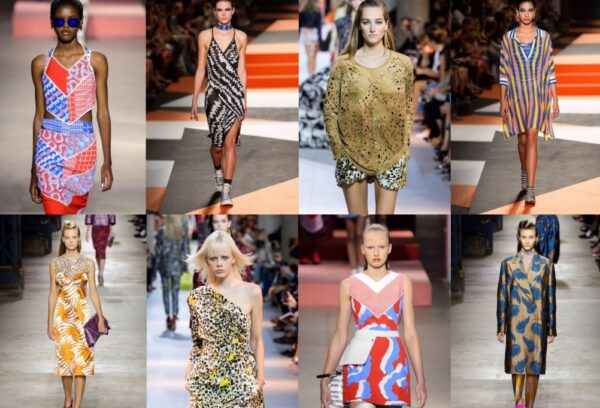 African-inspired prints are a chic, vibrant way to add some zest to your wardrobe. With these tips, you can be sure to shine wherever you go.
Add a splash of color: African-print dresses often have multiple colors, so why not pair them with another pattern that features one of those colors? If your dress has orange, pink, and blue in it, wear a blue blazer over it and pair the blazer with pink shoes.
Pick a standout color: If you're wearing an African print dress with lots of different colors, pick one as your standout color and match that color with your accessories. If you're wearing a multicolored print skirt, try matching your shoes and purse to just one of the skirt's colors.
Try complementary prints: Sticking to complementary prints is a great way to mix African prints into your wardrobe without going overboard. Pairing an African-print dress or skirt with something in stripes or polka dots will make your outfit more interesting.
The key thing to remember when mixing and matching African prints is that you don't want to make your outfit too busy. Try to keep the colors simple and the patterns uncomplicated.
Embellish It with Ethnic Jewelry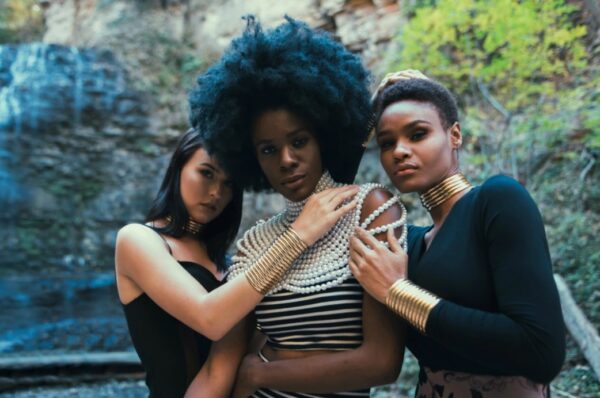 Using the right accessories can add flair to an African print outfit. One of the quickest and easiest ways to do that is with ethnic jewelry. Long gone are the days when African-inspired pieces are hard to find. Nowadays, people have a wider choice when it comes to finding African jewelry. It's not uncommon to find earrings, necklaces, bracelets, and rings in a variety of shapes and sizes that feature the same patterns found on African print clothing.
The most stylish way to jazz up your look is with bold statement necklaces made from big wooden beads or materials like agate stone. When shopping for African-inspired pieces, here are a few tips: Highlight your look with colorful multi-strand necklaces or chunky stone bracelets. Stick to solid colors in neutral tones when picking patterns that aren't heavily designed. These accessories will make your outfit look great, regardless of whether or not you have another print on.
Embellishing your look with ethnic jewelry can help bring out your look and show off your unique personality. So, if you have bold pieces of African print clothing, feel free to add a statement piece of jewelry as well.
Final Thoughts
African prints are the latest trend on the runway. From celebrities rocking them to brides using them as their wedding dresses, this stylish fabric has caught on in every part of the world. With an African print skirt, you don't have to worry about other prints stealing the show. There's just so much to look at—and all of it is beautiful.
African prints have gone from being mostly worn by the natives to being a staple in the wardrobes of fashion-forward people. The African print has proven to be a very versatile fabric that can be worn for many different occasions. It's easy to wear African prints by themselves—just throw on a pair of pants, a skirt, or a dress, and you've got a chic, fashionable look that will turn heads. Remember that there are no rules when it comes to fashion, so don't be afraid to try something different!
The easiest way to incorporate African print into your wardrobe is to wear it with solid colors or stripes, but you don't have to stop there. You can combine it with other prints as well, such as polka dots, florals, or even animal prints. Just remember that the key to a great outfit is balance: if one piece of your outfit has a lot of color and pattern, keep the other pieces simple.