If you want to increase your following as a realtor in your local community, the key to your success lies in how you market your company and services. The best way to unlock this door is to use postcards – mailers that will add to your credibility and local sales success.
Why Successful Realtors Use Postcards
As a realtor, you can gain a lot of leverage when you use postcards, as sending out the mailers makes it possible for you to connect with people both locally and online. Postcards are the best tool for a realtor to use to gain exposure in their community, direct local homeowners to their website, and contact them directly.
However, before you begin using real estate postcards as part of your marketing campaign, you need to figure out where you will send them, how often you'll send them, and to whom they'll be sent. When you figure out this information, you'll find that creating the postcards and mailing them is both exciting and fun.
Where to Obtain More Information about Real Estate Postcards: How to Get Started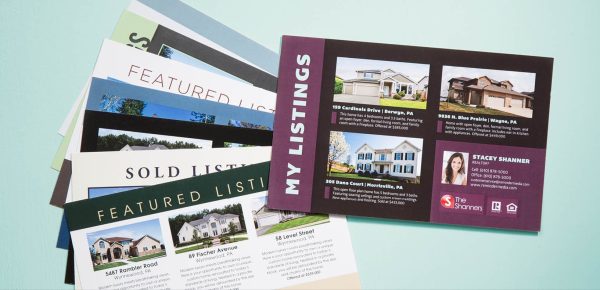 You can choose from one of the various template designs and establish a mailing list by visiting a go-to postcard marketing site, such as Wise Pelican. Having access to this type of platform will help you stay committed to marketing your business and developing your reputation as a local realtor.
Real estate postcards represent a helpful marketing tool because they give you plenty of latitude in promoting your business and targeting your audience. To succeed at this type of campaign, you first need to determine your demographic, the area you wish to farm (or generate leads), and the types of messages you wish to send monthly or bi-monthly.
Once you figure out the neighborhood for your postcard mailings, you can also develop a mailing list and determine the number of postcards to send. At the minimum, make it your goal to send out at least 150 postcards each month.
Creating a Successful Message for Your Postcard Campaign
To create a successful postcard and message, review the following information to ensure your postcard is well received.
What Do You Want to Say?
You can use real estate postcard designs to send out the following types of messages:
Share information about houses just listed
Inform recipients about houses, in the neighborhood, currently under contract
Offer homeowners a valuation analysis
Send out details about open house events
Use postcards as fill-ins, or share information, such as local recipes or upcoming community events
Send out offers to homeowners who've had problems with selling their real estate
Offer services to "for sale by owner" (FSBO) homeowners
Most postcards are used to share community listings–featured homes on the market and homes that have just sold–or to offer specific real estate services (home valuations or offers to sell hard-to-sell homes). Postcards are also frequently used to announce open houses in the neighborhood.
Why Postcards Work When Marketing Real Estate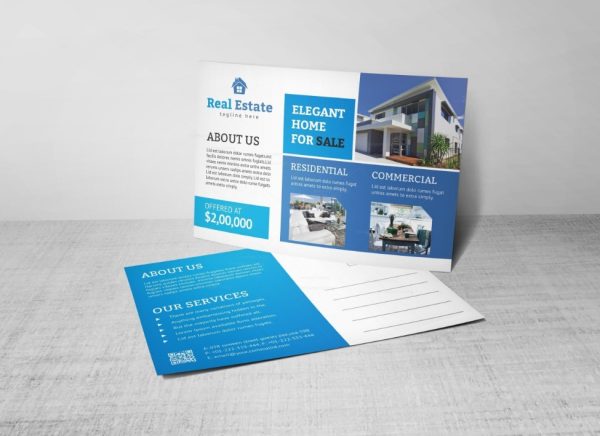 Real estate postcards work because homeowners like to receive up-to-date information about the houses that are listed for sale in their neighborhood. They want to see how home values impact their own property's worth in the local marketplace.
While they may not be interested in selling their home when they receive a postcard, the name of the realtor and their picture will stay in their mind. When they are ready to sell their property then, they are more likely to contact the realtor who stays in touch by using postcards in their marketing campaigns.
Tips for Capturing Your Reader's Attention
To ensure you're remembered, you must create a postcard that captures the reader's attention and conveys a professional image.
Add a Professional Headshot
Add a professional headshot on the postcard–one that you feature on your website as well–and include all your contact details, including name, street address, website address, and email.
Feature Your Brand's Colors and Logo
Use your brand colors and logo and keep everything consistent for your branding and contact information. The layout of the postcard should be simplified and clean with high-resolution images.
Use a Type that Is Easy to Read and a Larger Postcard Size
Make sure the type is easy to read and add your message to a postcard that is 6" x 9" so the recipient will more easily spot it.
What You Don't Want a Postcard to Say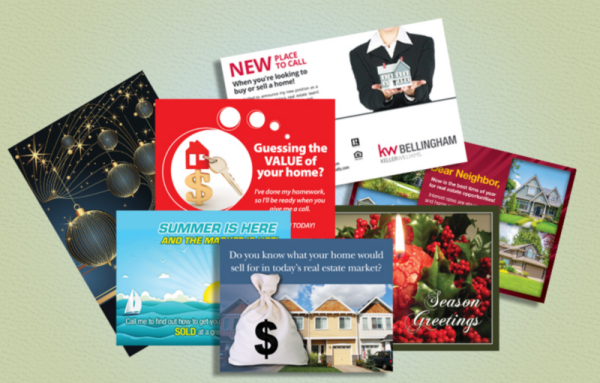 Successful realtors who use postcard marketing know how to design postcards so they reach their target audience. They know how to convey their message with good results. That's because they understand what works and doesn't work.
For example, it's best to review and use the template designs on a real estate postcard marketing platform to ensure your messages are read. You don't want to get too creative in this respect.
That means you want to send out postcards that your recipients can relate to or find personally helpful. What you don't want to do is send out meme-like postcards, as they are not informational. Even if they convey a funny or cute message, most people will only give them a glance, or consider them to be spam or junk mail.
If you want your message read, you need to direct the content so it catches the notice of your audience. It should cover their interests or their real estate choices and concerns.
Get into the Postcard Habit
It's important, as a realtor, to use postcards regularly for keeping in touch with the people in your real estate farming area. This all-important tool will allow you to stand out as a local real estate expert – a go-to person for anyone seeking real estate advice or help.
You really cannot market your business without using postcards, so consider them a part of the lifeblood of your marketing campaign. By emailing postcards and circulating them in targeted subdivisions and neighborhoods, you'll increase your influence over time, which, in turn, will help you become a listing leader and/or successful seller of real estate.
Create a Postcard for a Postcard Mailing Today
If you have not added postcard mailing as a tool in your marketing campaign, now is the time to begin. After you determine your mailing area, you can start fairly fast. In fact, you can choose template designs and add a message in a short manner of time. Try it now. Find out, like others, why sending out postcards works and how the activity can benefit you.