One of the glorious wonders of fashion is that it allows you to express yourself through your style. Presenting yourself through your clothes can reveal something about your personality. So, it's vital to discover what your personal style is.
If you feel unsure how to dress up for any occasion, it's time to change that thinking and spruce up your closet. You can learn more about your style by taking a good look at the clothes you already own.
It'll help to find inspiration from magazines or social media if you're looking for a way to boost your style. After all, it's part of your personality. Alternatively, consider applying these fashion tips to express your personality through clothes.
Wear Personalized Clothes
In this modern world, personalization is an ongoing trend that's being loved by many industries. In fashion, one can express themselves easily through personalized clothes. Wearing something that's originally yours and that no one else has can make you feel unique and more empowered.
Whether you prefer personalized prints or embroidery, you can try here and shop for some personalized items for starters. Wearing your design or artwork allows you to stand out from the crowd. The key is to create your unique art, graphic, or print design.
Clothing can be personalized in many shops. However, it's paramount to consider the fabric and print quality to ensure that these personalized clothes will last a long time.
Feel Good And Look Good In What You Wear
Nowadays, getting many comments regarding what you should wear isn't uncommon. On social media, people feel entitled to criticize anyone based on their appearance. However, don't let criticisms deter your will to feel good and look good in what you wear. There are tips for increasing your confidence, and you can start with that.
It doesn't matter what anyone else thinks of your sense of fashion. What matters most is that you're being true to yourself. Because when you are, you can wear the confidence that will make you look great no matter your clothes.
You may follow the current trends or please someone by giving in to their style suggestions. Regardless, what matters is that you're happy with who you are. So, stick to what you think works great for you. The more comfortable you are in your clothes, the better you'll be at whatever you do.
Decide Your Preferred Color Palette
Colors play a huge role in expressing your personality through fashion. Depending on your skin tone, color palettes can make you look better. Determining what shades and hues work for you can make you look more attractive.
Assess your current wardrobe now and see if there are clothes that flatter you the most. Look at their shades and take out similar ones. If they have similar effects, it simply means that the color is best fitted for your skin tone.
Meanwhile, if you're clueless about what colors or shades best suit you, you can start with neutrals. These are the safest shades and are pretty easy to mix and match. However, if brighter or bolder colors look great on you, owning clothes in such shades is an excellent style move.
Remember that fashion doesn't have specific rules, so feel free to experiment with various colors before choosing the one you like best.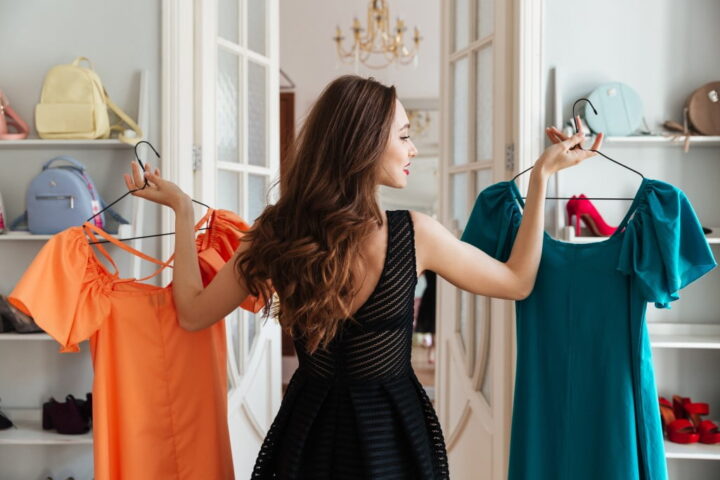 Rely On Accessories To Add Some Flair
Fashion is incomplete without accessories. You look more polished when you wear them. These are the must-have elements that can add flair to your overall look. Despite wearing something basic, simple, and casual, accessories such as bags, sunglasses, hats, and jewelry can elevate your look instantly.
When choosing accessories, ensure that they fit your personality and style. Wearing what you like is crucial to express your style effectively. The secret is to match your accessories to your whole outfit and ensure they all complement together. Learn to create balance and avoid over-accessorizing.
Express Your Uniqueness
Another tip for expressing your personality through clothes is to leverage your uniqueness. Everyone is different from each other. Take time to learn more about yourself, your taste, and your preferences. For instance, if you love a rugged look, street style, or grunge fashion, list them down, and you may discover a new side of yourself.
If you love classic or vintage styles, it's a great idea to visit and shop from thrift stores and vintage shops. If you want to express your love for music and bands, you should invest in shirts featuring your favorite rock stars. All these details allow you to express yourself better.
Play And Experiment
Sometimes, stepping outside your comfort zone can be a refreshing experience. In fashion, there are no restrictions and limitations to what you can do. If you want to try an edgier look, you're free to do so. Start playing and experimenting with what will look great on you.
You don't have to be afraid to try out new colors, styles, or accessories. Nevertheless, it's easier to experiment with accessories since they can be removed and make a noticeable difference to a person's overall look.
You can also try different ways of doing your hair, makeup, and even eye color. All these details can project a different version of yourself. And if you want to see which one looks better on you, the best way to know is to experiment.
Get Some Fashion Inspiration
Growing up, you probably have some people in the fashion industry whom you look up to. A little inspiration can help you find your style. The purpose isn't to copy a style but learn more about your own. Since you adore how they dress, it also gives you an idea about your preferences and fashion taste.
You can always go through social media pages or browse websites online if you need inspiration. If you want a specific fashion style, type it into the search engine. You'll be surprised at how many options are available to you.
Conclusion
It's essential to wear comfortable clothes that match your style when expressing your personality. Whether you want to discover more about your style or revamp your look, you can apply the tips mentioned in this article.