If you are a plant parent, you will know the beauty and peace while spending time with your plants can render. A day spent seeing the blooming buds and lush greenery is a day spent in heaven. You can add a beautiful bench to your garden to increase your comfort. Sitting in the grass might brighten you close to the bugs, and benches can be a safer option. On rainy days you can spend your day without getting your clothes dirty.
If you want bench ideas, you have come to the right place. The tips featured here will suit your small garden matching its feel. You can choose a bench from an esteemed company like vidaxl or DIY.
Have a look and get an idea of the new element you want to add to your patch of heaven.
Zen Your Energy
Adding a wooden zen bench to your meandering garden and a bird bath will add a therapeutic aura. The width of it will allow you to sit crossed-legged and do your morning meditation amidst the flowers and the rising sun or sit down there by the end of the day to pour out your heart in your journal. Zen benches are wide and comfortable, also a perfect fit for two or more people. You do not have to DIY it. These minimalist-designed benches are available in furniture stores.
Park Style Benches Are Never Out Of Fashion
These are very common and also aesthetic. Hollywood movies have made it more special with numerous love scenes shot on these benches. These benches are comfortable where you can lean back and relax. You might already have them, or if not, you can thrift them. To give it a touch of your taste, color it as you like or customize it with doodles.
Lighten Up The Corner
Make a gazebo-like structure by building a pergola and adding benches beneath it. This structure will lighten up the corner of your garden and be the center of attraction. You can add decorative pieces like white curtains, pillows, festoons, or lanterns. Light up the lanterns for a quiet night out with your partner, or spend a sunny day reading among the plants.
Utilizing Boundaries
If you want a budget-friendly option, utilize the boundary walls. You can do it without buying any extra materials. Use the concrete wall as the base and top it with a wooden plank. Wallah! Your bench is ready. You can ask your builder to shape an arch so that you can rest your back, or use another think plan of wood and place it at a 90-degree angle to rest your back.
Upcycle To Up Your DIY Game
It is one of the easiest DIYs you can opt for. Do not throw away your planter boxes. Collect four or six of them. An even number of planter boxes is necessary to avoid slanting sitting on top. Place an equal number of planter boxes on either end and place a wooden plank on it. Screw them together to secure and ensure that it does not have more. You can further add colors of your own choice. Add sitting foams and surround them with plants, and enjoy your cuppa!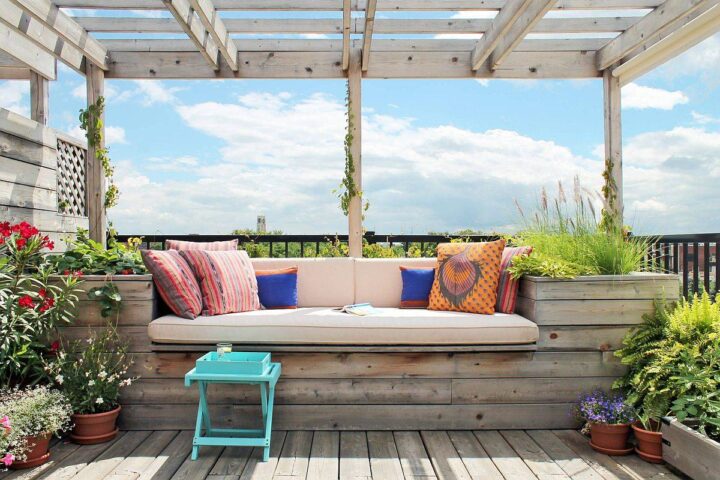 Patios Benches
Basics are back in trend, be it your dressing style or decor. Get a small-sized patio bench, or even better if you can thrift it. Add a bench with angular legs for a modern and chic look. The small size of the bench will allow you to move it to different places. Thus, you can ensure that they are moved to a safe place if the weather is not suitable.
Landscaping Utilization
There is no rule that you must apply before getting an outdoor bench. Let your mind work and create wonderful ideas. One of these creative ideas is using the landscaping material as a bench. While landscaping, look for a boulder that has a smooth top and rough edges. The smooth top will provide a sitting arrangement when you want to spend a day reflecting on your life. It will also give a periodic look to your garden. If you are a Jane Austen fan, you might meet Mr.Darcy while enjoying your "Pride and Prejudice".
County Lad
Do you miss your county home and the farms you grew up in? You can recreate your nostalgic patch by investing in a farm bench. Place the bench in your garden and customize it with something that reminds you of your childhood. It may be the color of the bench that matches your childhood garden bench. You might choose to accessorize it with some cushions.
Take Inspiration From The Nature
Use stones and place them on either side and top them with a wooden plank. You don't have to be perfect, beauty lies in imperfection. Use uneven rock and uneven wooden planks for a rustic look. Place colorful flowering plants and enjoy the sight of your creation.
Logs For Legs
If you have tree logs, cut them at a similar height and place a plank of wood over the logs. You will get an upcycled and sustainable wooded bench. It will be one of a kind, so you can flaunt your neighbor a new bench that you DIYed.
Use The Left-Out Tiles
You can decorate an existing block-style sitting area by paving it with left-out tiles. Broken tiles of different patterns and sizes will give the bench a mosaic look.
Conclusion
Amidst the brick first in the cities, having your own garden will be a joy to your soul. Spending 30 minutes a day will help you destress your daily life pressure. Investing your time in thing how to decorate your garden is also a part of your destressing routine. The aforementioned ideas will light up your garden and also give you a pocket of happiness you can return to, again and again.